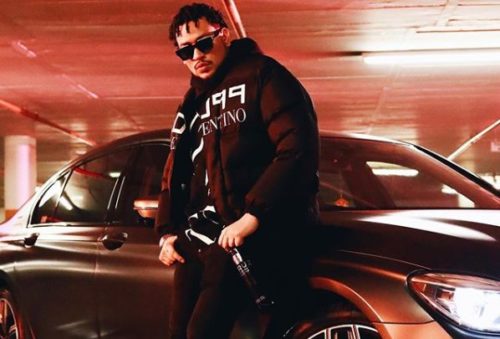 It's without doubt that the music industry has been going through the most during this trying period.
Since the outbreak of COVID-19 in March in South Africa, the country kicked off a lockdown at alert level 5, which got all events cancelled,as there was an order for no-gathering.
Most music artists secure their bags from gigs, but putting an end to all of these stopped the flow of cash into your faves hands.
Some of South African musicians boldly confessed being broke, while a few claimed they've been running on no-income for months; they called on the Government for help.
Below are 5 SA music artists who lamented over their finances:
AKA
Supa Mega shook Twitter months ago after he affirmatively said he was broke, especially after he reveled that he got no dime on his sneAKA(sneakers' line) with Reebok. "Don't let anyone tell you otherwise, I'm broke," he tweeted.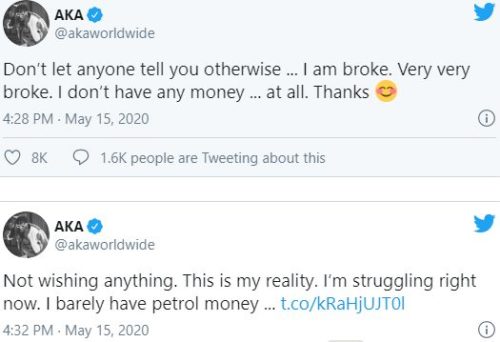 View this post on Instagram
Cassper Nyovest 
Cassper also said he is broke, just few days after AKA confessed his' in May. Mufasa was dragged for being a cry baby. However, he later urged other SA artists to watch their spending during this difficult time.
Yeah I'm broke B. https://t.co/4ciLwAuUoR

— R.M Phoolo (@casspernyovest) May 16, 2020
View this post on Instagram
DJ Zinhle 
D Zinhle shook the net after claiming being without income for the past 3 months. She revealed this after a company pissed her off by asking for a free performance.
"Am I the only artist who gets highly offended when a reputable company/organization asks for a free performance. Like, njani? How am I gonna risk my life going out to record a stream for free when I haven't had an income for 3 months," she tweeted in July.
View this post on Instagram
DJ Maphorisa
Lawd Phori got fans worried with talks on dying broke after it was announced that the lockdown got extended. Some critics blamed him for not saving before now, while a few other empathized with the DJ. ""Why should we die broke? rather die trying this is sad man. Lockdown must end. This doesn't make sense anymore," he tweeted.
View this post on Instagram
DJ Fresh
DJ Fresh who unctions as a DJ aand radio presenter also joined the league of no-income. Taking to Twitter, he said its been 4 months with no income but just debit orders. "4 months of debit orders with zero income, for majority in the arts!!!"
4 months of debit orders with zero income, for majority in the arts!!! #Carnage 💔😭

— DJ Fresh (Big Dawg) (@DJFreshSA) August 3, 2020