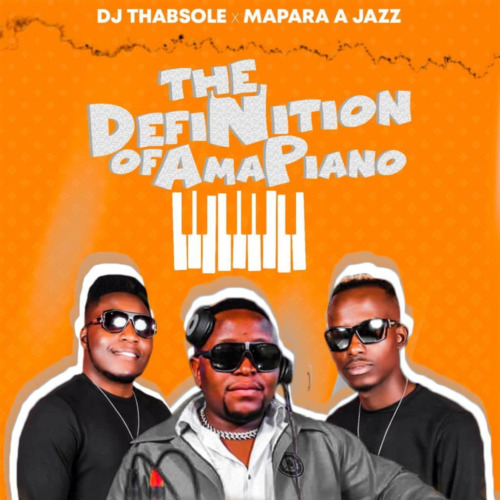 DJ ThabSole and Mapara A Jazz work together in dropping this new album titled The Definition of Amapiano.
They hold it with 10 tracks featuring artists like Leon Lee, OHP SAGE, Jon Delinger, and a few more appearances.
They also made an appearance when they introduced the album by dropping a combo effort titled Someone Like You featuring Leon Lee, Jon Delinger, 015MusiQ, and Van City MusiQ.
The South African DJ also made an introduction to the project when he dropped Sophinda Sibonane featuring Mapara A Jazz, Jon Delinger, and Prospect.
He continues to play his part for his fans as he drops this new project.
ALBUM: DJ ThabSole & Mapara A Jazz – The Definition Of Amapiano
1. DJ ThabSole & Mapara A Jazz – Baphathi Bendawo ft. 015MusiQ, Van City MusiQ & OHP SAGE
2. DJ ThabSole & Mapara A Jazz – Someone Like You ft. Leon Lee, Jon Delinger, 015MusiQ & Van City MusiQ
3. DJ ThabSole & Mapara A Jazz – Nkosi Sikelela ft. OHP SAGE, 015MusiQ & Van City MusiQ
4. DJ ThabSole & Mapara A Jazz – Piano ft. Leon Lee & Pouler_D'MusiQ
5. DJ ThabSole & Mapara A Jazz – Sgubu ft. Leon Lee & Pouler_D'MusiQ
6. DJ ThabSole & Mapara A Jazz – Chelete ft. 015MusiQ, Van City MusiQ & OHP SAGE
7. DJ ThabSole & Mapara A Jazz – Party Animal ft. Loverss exclusive, OHP SAGE, 015MusiQ & Van City MusiQ
8. DJ ThabSole & Mapara A Jazz – Stjwetla ft. 015MusiQ, Van City MusiQ, Khulu Knox, OHP SAGE & Basaya
9. DJ ThabSole & Mapara A Jazz – Sondela ft. OHP SAGE, 015MusiQ & Van City MusiQ
10. DJ ThabSole & Mapara A Jazz – O Buyile ft. Loverss exclusive, OHP SAGE, 015MusiQ & Van City MusiQ