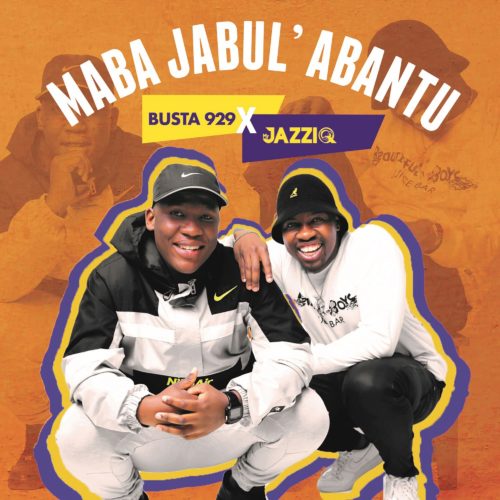 South African producers Mr JazziQ of JazziDisciples and Busta 929 work more this time with their latest album titled Maba Jabul'abantu.
Their latest hit album houses 8 amazing Amapiano hit tunes. Opening the album with Purple Mellow, Reece Madlisa, Zuma and Bontle Smith took the second track with the producers.
The Maba Jabul'abantu is a joint project with Kasi artiste  Busta 929. The EP is promoted by the singles VSOP and Unkle both released several days ago to promote anticipation for the Amapiano project.
Mr Jazziq has been high in demand since the instant hit Zlele alongside youngsters Reece Madlisa & Zuma.
Mpura and Riky Rick appear to be the newest one to join the group. Reece Madlisa, Zuma, JazziQ, and Busta 929 recently dropped a hit Amapiano which they called Sithi Sithi.
The producers held the track more with Reece Madlisa as he featured most on the album.
Download Zip file Mr JazziQ & Busta 929 – Maba Jabul'abantu album tracklist below.
1. Mr JazziQ & Busta 929 – Hold On ft. Purple Mellow
2. Mr JazziQ & Busta 929 – Moshimane ft. Reece Madlisa, Zuma & Bontle Smith
3. Mr JazziQ & Busta 929 – Monate ft. FakeLove, Focalistic & Masterpiece
4. Mr JazziQ & Busta 929 – VSOP ft. Reece Madlisa, Zuma, Mpura, Riky Rick & 9umba
5. Mr JazziQ & Busta 929 – Le Ngoma ft. Reece Madlisa & Zuma
6. Mr JazziQ & Busta 929 – Unkle ft. Reece Madlisa, Zuma & Mbali
7. Mr JazziQ & Busta 929 – Kude ft. Reece Madlisa & Mpura
8. Mr JazziQ & Busta 929 – Jika ft. Reece Madlisa, Zuma & Eullanda