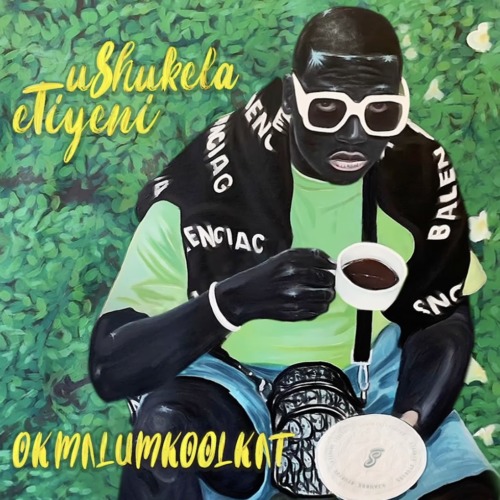 Okmalumkoolkat drops this new project titled uShukela eTiyeni album.
He releases the new project with 18 tracks featuring top artists in the game along with him.
Okmalumkoolkat has teased the project for so long for his fans after he dropped other tracks with artists in the industry.
The South African artist also released iYona featuring DJ Tira and Sanie Boi.
Following the release of Uthando To The T starring Debra Nist, he enters this new round after performing on Junior Taurus's track Benga.
In showing his awesomeness to his fans, he drops this new project.
ALBUM: Okmalumkoolkat – uShukela eTiyeni
1. Okmalumkoolkat – Siyayintshontsha (iAttention) ft. Nirvana Nokwe
2. Okmalumkoolkat – Came With The Sjambok
3. Okmalumkoolkat – Spova The Genge Superior
4. Okmalumkoolkat – The Mpahlas ft. Crush, Windows 2000 & 45 Degreez (Remix)
5. Okmalumkoolkat – Umhlanga Rocks
6. Okmalumkoolkat – Weh! Rhe!
7. Okmalumkoolkat – iYona ft. DJ Tira & Sanie Boi
8. Okmalumkoolkat – iStandard ft. Teedow Bangs
9. Okmalumkoolkat – Weekend Egangile
10. Okmalumkoolkat – Weekend Egangile (Remix)
11. Okmalumkoolkat – New South Africa Entsha ft. Beast, Killer Kau & Thelawayeka
12. Okmalumkoolkat – Ngamadolo ft. Thelawayeka & Sego The Great (Thukzin's Theme)
13. Okmalumkoolkat – Lokshin Gqom Wave
14. Okmalumkoolkat – Uthando To The T ft. Debra Nist
15. Okmalumkoolkat – Vele Kunjalo ft. Crush
16. Okmalumkoolkat – Cava The Action ft. Debra Nist
17. Okmalumkoolkat – Izandla
18. Okmalumkoolkat – Mzukulu ft. Nirvana Nokwe