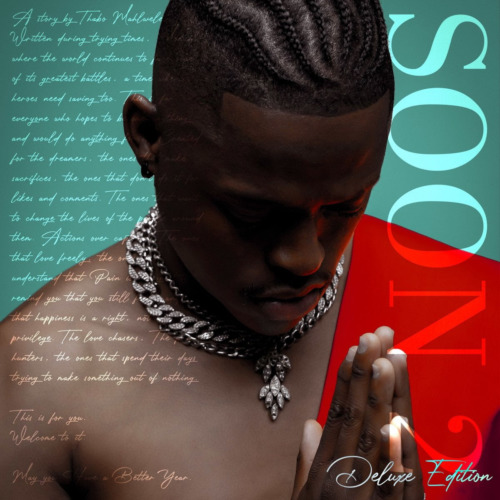 Touchline holds it for his fans as he the deluxe edition of his album titled S.O.O.N 2 (A Better Year).
This time, he holds it with 16 tracks featuring artists like Mandy ZA, K.O, Phantom Steeze, Loki, and a few more on it.
Touchline is preparing a better career as he recently also dropped an EP titled Before I Say More.
Proving his worth and strength, he also made his last round on Shuga Cane's track titled SMS.
In taking his space for the week, he drops this new album.
ALBUM: Touchline – S.O.O.N 2 (A Better Year) (Deluxe Edition)
1. Touchline – A South African Christmas
2. Touchline – Actions Over Captions
3. Touchline – Shukela (Sawubona) ft. Mandy ZA
4. Shakespear – Amasi ft. Touchline, King Sweetkid & Zolile_3k
5. Touchline – I'll Always Have Me ft. Veena
6. Touchline – Six ft. CeLza
7. Touchline – Abapheli ft. Phantom Steeze & Loki
8. Touchline – Abafana Aba Hot ft. K.O
9. Touchline – Free Mode
10. Touchline – Peace Hunting
11. Touchline – Wadlala uTouch
12. Touchline – Madala
13. Touchline – Where I Belong ft. Mandy ZA
14. King SweetKid – Heavy Interlude
15. Touchline – Apha Echelon
16. Touchline – 3 Meter