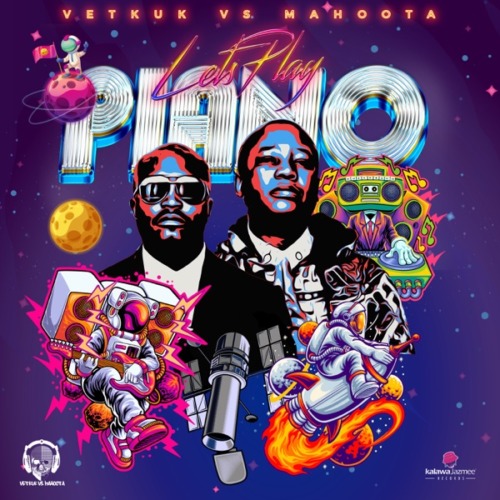 Vetkuk and Mahoota pair up as they pull this new album stunt titled Let's Play Piano.
The project holds 14 tracks and various artists from the South African genre.
They also launched it with other tracks like Dali Wami featuring Sizwe Alakine, Dr Lamondro & Taribo West, KwaMashu 2 featuring Dladla Mshunqisi, Ntomusica, Dr Lamondro, Taribo West & DJ Tira, and a few more.
Vetkuk and Mahoota have their name registered for the weekend as they deliver this new groove.
ALBUM: Vetkuk & Mahoota – Let's Play Piano
1. Vetkuk & Mahoota – Welele 014 ft. SmallDrumZA & DeejayRex
2. Vetkuk & Mahoota – Dali Wami ft. Sizwe Alakine, Dr Lamondro & Taribo West
3. Vetkuk & Mahoota – Groove YaMagrootman ft. Real Nox
4. Vetkuk & Mahoota – Ko.Ko x2 ft. Professor, Larny & MEEZ
5. Vetkuk & Mahoota – Lahl'Mlenze ft. M.J & Real Nox
6. Vetkuk & Mahoota – Mayoh ft. Real Nox, LeMark, ThatGuyCTN & Vinox Musiq
7. Vetkuk & Mahoota – KwaMashu 2 ft. Dladla Mshunqisi, Ntomusica, Dr Lamondro, Taribo West & DJ Tira
8. Vetkuk & Mahoota – Mazabique with Larny ft. Larny
9. Vetkuk & Mahoota – Ngidl'ntsimbi Yomlungu ft. Nokwazi
10. Vetkuk & Mahoota – Asambe ft. Vall Dollz
11. Vetkuk & Mahoota – Ngikhathele ft. Mbal'Yesizwe
12. Vetkuk & Mahoota – Amaxoki ft. Dr Lamondro & Taribo West
13. Vetkuk & Mahoota – Provoker ft. Professor, Dr Lamondro & Taribo West
14. Vetkuk & Mahoota – O Tlautlwa Mnate ft. Dr Lamondro & Taribo West