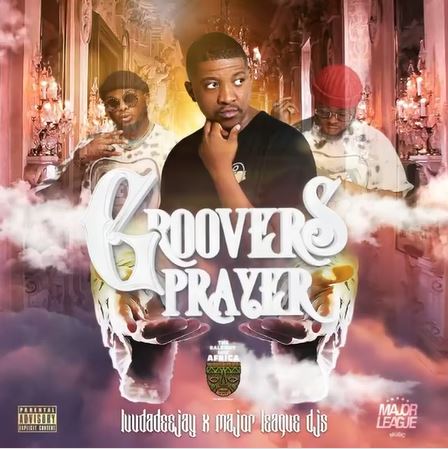 Luudadeejay, Balcony Mix Africa, and Major League DJz make a new round on this project titled Groovers Prayer.
They drop the new project in telling the African story after tours across the world.
Major League DJs as the pioneers of Balcony Mix Africa are definitely setting a new pace for the brand.
The brand made its last appearances on tracks like Nkentse Roboto featuring Major League, Amaroto, Nobantu Vilakazi & LuuDadeejay, and Government featuring Major League, Focalistic, Lady Du, Aunty Gelato & LuuDadeejay.
As their first project, it includes the effort of Luudadeejay and Major League DJs.
Luudadeejay, Balcony Mix Africa & Major League DJ – Groovers Prayer
1. Luudadeejay, Balcony Mix Africa & Major League DJz – Spova
2. Luudadeejay, Balcony Mix Africa & Major League DJz – War
3. Luudadeejay, Balcony Mix Africa & Major League DJz – Ta Number
4. Luudadeejay, Balcony Mix Africa & Major League DJz – Deep Groove
5. Luudadeejay, Balcony Mix Africa & Major League DJz – Saba Nini ft. Abidoza, Yumbs & Mkeyz
6. Luudadeejay, Balcony Mix Africa & Major League DJz – Sabela
7. Luudadeejay, Balcony Mix Africa & Major League DJz – Emdeni
8. Luudadeejay, Balcony Mix Africa & Major League DJz – Sgubhu Saka
9. Luudadeejay, Balcony Mix Africa & Major League DJz – Nkentse Roboto ft. Nobantu Vilakazi, Zuma & Reece Madlisa
10. Luudadeejay, Balcony Mix Africa & Major League DJz – America ft. Lady Du
11. Luudadeejay, Balcony Mix Africa & Major League DJz – Ow Gawd
12. Luudadeejay, Balcony Mix Africa & Major League DJz – Owl Cry
13. Luudadeejay, Balcony Mix Africa & Major League DJz – Thando ft. Zywane, Yumbs, Kat & Letso M
14. Luudadeejay, Balcony Mix Africa & Major League DJz – I Do ft. Mawhoo & Jordan
15. Luudadeejay, Balcony Mix Africa & Major League DJz – Lufuno
16. Luudadeejay, Balcony Mix Africa & Major League DJz – Summa Tym
17. Luudadeejay, Balcony Mix Africa & Major League DJz – Between The Sheets