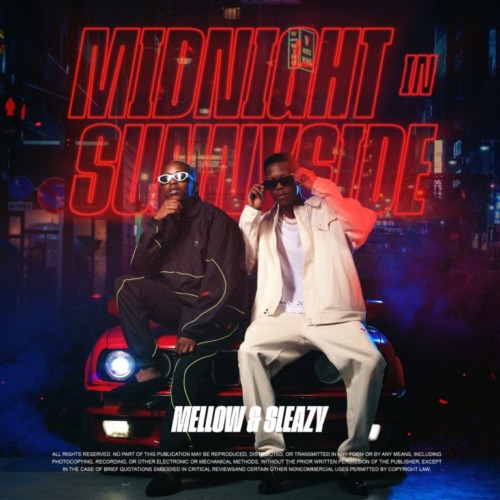 One of the best duos Amapiano producers takes over again once again as they share their latest project titled Midnight In Sunnyside EP.
They package the EP with 9 tracks featuring artists like Madumane, Sizwe Alakine, Nkosanza Daughter, and a few more appearances you should check out.
In announcing the project for their fans, they also released the last track titled Chipi Ke Chipi featuring Justin99.
Mellow and Sleazy have definitely taken the first quarter of the year as they set to do it again.
Mellow & Sleazy – Midnight In Sunnyside – EP
1. Mellow & Sleazy – Umshini Ka Zuma ft. M.J
2. Mellow & Sleazy – Macashelana ft. M.J, Lemaza & Matute Boy
3. Mellow & Sleazy – Casablanca ft. Madumane, Sizwe Alakine, Mpura Mpura
4. Mellow & Sleazy – Slatlha Matente ft. M.J, BoontleRSA & Azi
5. Mellow & Sleazy – XO ft. Young Stunna
6. Mellow & Sleazy – Bayethe ft. Nkosazana Daughter
7. Mellow & Sleazy – Ba Bize ft. Murumba Pitch, Daliwonga, Visca & Djy Biza
8. Mellow & Sleazy – Kwenzekeni ft. Azi, BoontleRSA & M.J
9. Mellow & Sleazy – Chipi Ke Chipi ft. Justin99