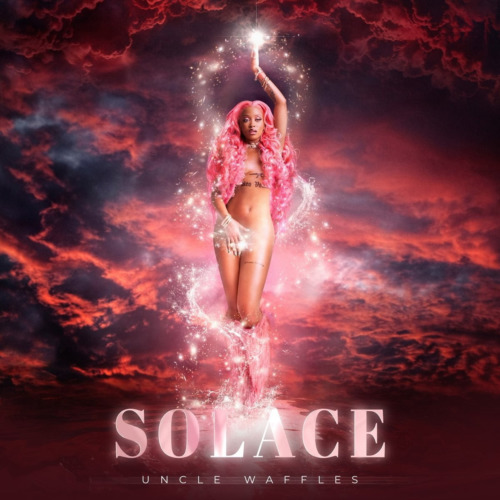 Prepare to embark on a sonic journey of introspection and emotion with "Solace EP" by Uncle Waffles.
This collection of tracks is more than just music; it's an invitation to find solace in the melodies, to reflect on life's moments, and to immerse yourself in the artistry of sound.
"Solace EP" opens with an atmospheric ambiance that immediately sets a contemplative mood. Each track unfolds like a chapter in a story, with Uncle Waffles guiding listeners through a range of emotions. The intricate layering of sounds, from ethereal synths to subtle percussion, creates a rich and immersive sonic experience.
She made the introduction when she also dropped Peace & Happiness featuring 2Kultured, Jandas, and Vuyo.
Throughout the EP, Uncle Waffles skillfully combines elements of electronic and ambient music, resulting in a blend that is both captivating and soothing. The tracks ebb and flow, creating a sense of movement and progression that mirrors the emotional journey of finding solace.
Uncle Waffles has masterfully crafted a collection of tracks that not only showcase his production prowess but also offer listeners a space to connect with their inner selves. This EP is a reminder that music has the power to heal, inspire, and provide solace in times of uncertainty.
1. Uncle Waffles – Echoes ft. Tony Duardo, Manana & Lusanda
2. Uncle Waffles – Peace & Happiness ft. 2Kultured, Jandas & Vuyo
3. Uncle Waffles – Peacock Revisit ft. Ice Beats Slide & Sbuda Maleather
4. Uncle Waffles – Waffles Anthem ft. Murumba Pitch, Shakes & Les
5. Uncle Waffles – Khumbula ft. MaWhoo, Sino Msolo, Shakes & Les
6. Uncle Waffles – Khula ft. Optimist Music ZA, Shakes & Les
7. Uncle Waffles – Solace (song) ft. Ice Beats Slide