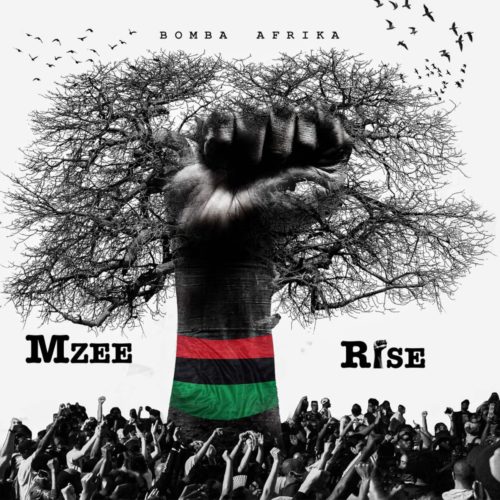 Mzee takes it higher as he drops a massive album titled Rise.
The album houses 24 tracks in it ready for greatness.
Artists like Drumetic Boyz, Yvonne Chaka Chaka, Lamie, Phila Dlozi, and a few more gave the album special appearances.
Coming off the album, he also dropped Awukho Umuzi featuring Drumetic Boyz and Bala Lelimnyama featuring Indlovukazi.
Giving his fans something new, he drops this new project.
1. Mzee – Afrika ft. Bholojaa
2. Mzee – Mazibuyele Emasisweni ft. Phila Dlozi
3. Mzee – Nombili ft. Hishishi Papa & Yvonne Chaka Chaka
4. Mzee – Rise ft. Brenda Mtambo
5. Mzee – Ibutho ft. Phila Dlozi
6. Mzee – My Teacher Taught Me Nonsense ft. Femi Koya
7. Mzee – Va Hemba ft. Nurse & Junior Mabhokodo
8. Mzee – Vuka ft. Zena Edwards, Khanyo Maphumulo & Vusa Mkhaya
9. Mzee – Ngiyeza ft. Oluhle & Soweto Gospel Choir
10. Mzee – The Love That Love Failed to Love ft. Sylvia Blangwe & Vusa Mkhaya
11. Mzee – One Day ft. Lamie
12. Mzee – Gayiza ft. Sunglen Chabalala
13. Mzee – Uya Tavhanya ft. Sir McKleker
14. Mzee – Bala Lelimnyama ft. Indlovukazi
15. Mzee & AJourneyOfMilez – Ancestral Dance ft. Malatji
16. Mzee & Busi Mhlongo – Awukho Umuzi ft. Drumetic Boyz
17. Mzee – Imali ft. Mbuso Khoza
18. Mzee – We Are All Africans ft. Salif Keita
19. Mzee – House Negro ft. Malcolm X & Drumetic Boyz
20. Mzee – Mahuwelele 2021 ft. Sunglen Chabalala & Drumetic Boyz
21. Mzee – Umoja (Umoja Drumetic Boyz Remix) ft. Kampi Moto
22. Mzee – A Hi Mina ft. Joe Shirimani & Mnqobi Yazo
23. Mzee – Mahuwelele (Mahuwelele Drumetic Boyz Remix) ft. Candy
24. Mzee – Farafina Kuninta ft. Kadialy Kouyate
25. Mzee & Busi Mhlongo – Boddhi Satva (Boddhi Satva Ancestral Soul Mix)