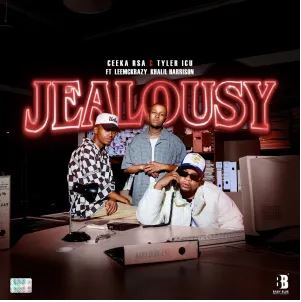 "Jealousy" by Ceeka RSA & Tyler ICU featuring Leemckrazy & Khalil Harrison is a high-energy Amapiano track that immediately captures attention with its infectious rhythm and vibrant melodies. The song kicks off with an upbeat and dance-inducing introduction.
Ceeka RSA and Tyler ICU's production expertise shines through, providing a lively sonic backdrop for the dynamic vocal contributions of Leemckrazy & Khalil Harrison.
Tyler ICU's recent involvement was when he featured on Kiddyondebeat's Piano featuring Nia Pearl.
"Jealousy" seamlessly blends traditional Amapiano elements with modern production techniques, resulting in an exhilarating and energetic composition.
"Jealousy" is an anthem that invites listeners to groove along to its catchy hooks and pulsating beats. It's a track that uplifts spirits and ignites the dancefloor with its infectious energy.
Ceeka RSA & Tyler ICU – Jealousy ft. LeeMckrazy & Khalil Harrison