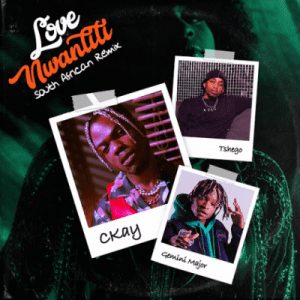 South African artistes Gemini Major and Tshego appears with their South African version of Love Nwantiti which was initially released by the Nigerian star CKay.
Gemini Major and Tshego grabs the song to produce their South African remix of the hit song to the listeners holding the wheel firmly as they take the verses.
Rudebouy recently shared to his fans the latest on his upcoming album as he calls on Anatii and AKA as part of his biggest features.
He recently appeared on Energy released by AKA which is still shaking the walls of South Africa. Pending the time he releases his album, he drop Love Nwantiti with Tshego for fans to enjoy
CKay – Love Nwantiti ft. Gemini Major & Tshego (South African Remix)