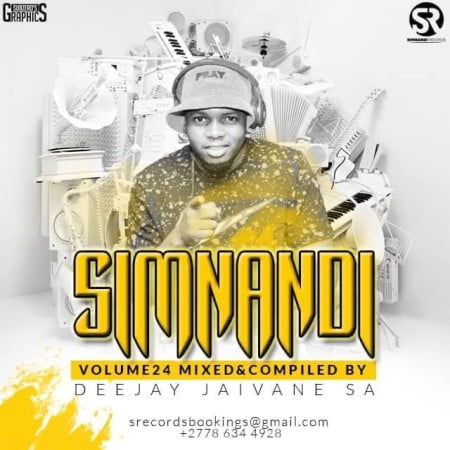 DJ Jaivane takes hours on this as he drops a new one tagged Simnandi Vol 24 Live Mix (Welcoming 2021)
He welcomes the year with a fresh one from his side with this carefully arranged mix.
His last appearance last year was on XpensiveClections Vol 40 Mix (Level 1 Edition) after he dropped Ubusha Bethu featuring Slenda Vocals.
The weekend keeps getting better as DJ Jaivane does his side in making it better.
Playlist:
1. Muziqal Tone – uThando Lwe Mali ft. Spizzy
2. Muziqal Tone – Wela MntanoMuntu ft. Spizzy
3. Muziqal Tone – Ntombi'Yam ft Spizzy
4. Muziqal Tone & DJ Jaivane – As'bonge Simnandi ft. Spizzy
5. Muziqal Tone & Tribesoul – Wavele Wahamba ft. Spizzy
6. ATM MusiQ & Muziqal Tone – Khongolose ft. Spizzy
7. DJ Jaivane & Muziqal Tone – Ngenza Ye'Piano ft. Ken-l
8. Muziqal Tone & ATK MusiQ – Ngwazi ft. Spizzy
9. Muziqal Tone – Ngik'Phonela Kaningi ft. Spizzy
10. ATK MusiQ & Muziqal Tone – Jakalas ft. Spizzy
11. ATK MusiQ – Imikonto ft. Tman Xpress
12. Muziqal Tone – Njenga'Manje ft. Spizzy
13. Muziqal Tone – Ntwana Yami ft. Tman Xpress
14. Muziqal Tone – Sgub'SamaJekeje ft. Spizzy
15. ATK MusiQ, Sinny ManQue & Muziqal Tone – Impilo Ikakaramba ft. Spizzy
16. ATK MusiQ & Muziqal Tone – Vimba ft. Ken-l & Spizzy
17. ATK MusiQ – Credits (Main Mix)
18. ATK MusiQ & Almighty – Mighty Gada (Main Mix)
19. ATK MusiQ & Tumza Thusi – Wineries (Original Mix)
20. DJY Jaivane & Muziqal Tone – Soulful Sunday (Private Tech Piano)
21. Muziqal Tone & ATK MusiQ – Tech Monday (Private Tech Piano)
22. DJ Jaivane & Muziqal Tone – Lastborn's Corner (Katlehong Vibes)
23. ATK MusiQ & Almighty – Fruity Loop 5 (Main Mix)
24. ATK MusiQ – Rise (Private Mix)
25. Muziqal Tone & ATK MusiQ – Ehh Simnandi ft. Mgiftoz SA
26. DJ Jaivane & ATK MusiQ – The Girl Next Door
27. ATK MusiQ – Out Lands (Original Mix)
28. ATK MusiQ & Tumza Thusi – Afro Chiskop (Original Mix)