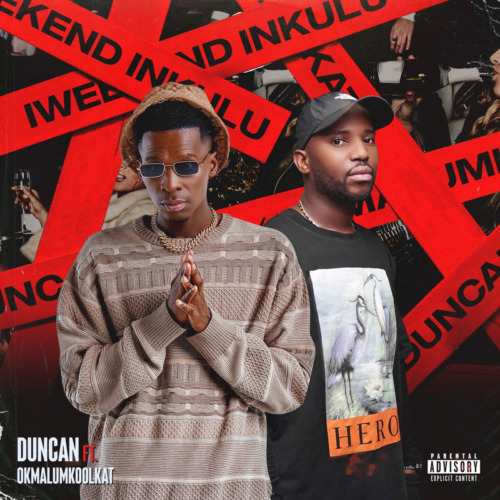 In "iWeekend Inkulu," Duncan teams up with the incomparable Okmalumkoolkat to deliver a weekend anthem that is an explosion of artistic chemistry. The track exudes energy and charisma, inviting listeners to join in the celebration of life and the joy of living in the moment.
The song's infectious beat immediately grabs the listener's attention, setting the stage for Duncan and Okmalumkoolkat to showcase their distinctive styles and lyrical prowess. Each verse is delivered with precision and flair, creating a dynamic interplay between the two artists that keeps listeners hooked from start to finish.
The South African artist also pulled this new stunt just like he featured on Skhindi's track titled Khanda Shisa featuring Musiholiq.
"iWeekend Inkulu" is a perfect blend of hip-hop and kwaito influences, resulting in a refreshing and unique sound that is bound to get any party started. Duncan's commanding presence on the mic is complemented by Okmalumkoolkat's smooth and effortless flow, making this collaboration a true standout in the South African music scene.
The song's lyrics capture the spirit of carefree weekends and the joy of spending time with friends and loved ones. It's an anthem for embracing the simple pleasures of life and savoring every moment of freedom and happiness.
With "iWeekend Inkulu," Duncan and Okmalumkoolkat prove that their musical chemistry is unparalleled. The track is a testament to the power of collaboration and creativity in the music industry, leaving listeners eagerly anticipating more joint ventures from these two exceptional artists.
Duncan – iWeekend Inkulu ft. Okmalumkoolkat