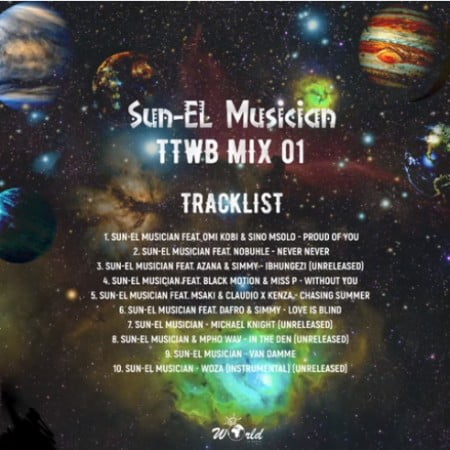 Sun-EL Musician plays his part in making the weekend better as he drops his TTWB Mix 01.
He brings 10 of his amazing tracks to us in a single track as he mixed them in a way we want.
Opening the mix with Proud Of You featuring Omi Kobi and Sino Msolo, he welcomed them into something special with it before giving Nobuhle the next track.
Most of the tracks happen to appear inclusive in his To The World And Beyond album where he housed greatness for his fans.
Delivering something nice to us for the weekend, he drops this amazing mix to us.
1. Sun-EL Musician – Proud Of You ft. Omi Kobi & Sino Msolo
2. Sun-EL Musician – Never Never ft. Nobuhle
3. Sun-EL Musician – Ibhungezi (Unreleased) ft. Azana & Simmy
4. Sun-EL Musician – Without You ft. Black Motion & Miss P
5. Sun-EL Musician – Chasing Summer ft. Msaki & Claudio & Kenza
6. Sun-EL Musician – Love Is Blind ft. Dafro & Simmy
7. Sun-EL Musician – Michael Knight (Unreleased)
8. Sun-EL Musician & Mpho Wav – In The Den (Unreleased)
9. Sun-EL Musician – Van Damme
10. Sun-EL Musician – Woza (Instrumental) (Unreleased)