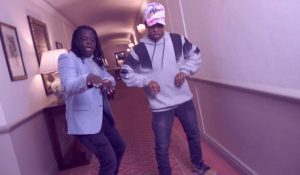 South African based Nigerian musician, Pappy Thrill has just released his brand new music video titled 'Like A Bad Girl' featuring Nasty C.
Prince Alfred Kingsley Chukwuyem Leo jr was born to a Royal family in Agbor, Delta State, Nigeria, raised in Lagos state, Nigeria but resides in Cape Town, South Africa. He is known by his stage name Pappy Thrill (sometimes stylized as King P, Thriller or Thrizzle).
On this new tune, Pappy Thrill handles the hook, verse 1 and 3 which Nasty C handles verse 2 on the record which he slays so well. Check out the brand new record which is set to take the dancehall world by storm.
This music video has been a long time coming and has not disappointed with its catchy flow and stunning visuals.
The music video was shot and directed by Tinashe Arthur Chikwanda who took the time to create a great product with this music video which is currently being sampled to Television stations.
Watch and enjoy below!
DOWNLOAD: Pappy Thrill Ft. Nasty C – Like A Bad Girl