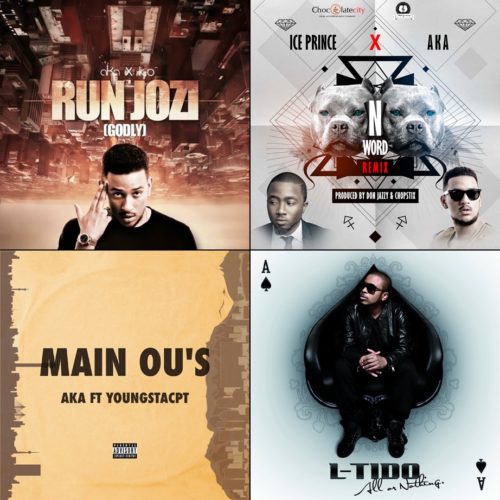 It does not matter who owns the track, what reckons more is who did justice to it.
Over time, featured artists/rappers have been taking the show on some songs in South Africa.
Making the list short and holding the best, we bring 7 times South African rappers took the show on featured tracks.
As dope as L-Tido's verses were, he still lost the battle to K.O as the featured artist that stole the show. The song dropped from L-Tido's album titled All Or Nothing.
2. Da L.E.S. – We On Fire ft. Bongz & Maggz 
Maggz stole the show on this track and still remains one of his memorable tracks. He was mean, direct, and threatening on the track.
The song was released in 2008 under the production of Bongz.
3. AKA – Run Jozi (Godly) ft. K.O
K.O could not win the comeback this time as he does in his second verse. This time, K.O beat him to his game in the track. K.O's dexterity was a game-changer.
The song was released from the album titled Levels in 2014. K.O now rests to see the good works he has laid as we don't get to see him with the same energy he used on this track.
4. Cassper Nyovest – Ng'yekeleni ft. Black Thought
Black Thought is undeniably one of the best lyricists of all time so this is sort of a no-brainer.
Cassper Nyovest gave the crown to him with no arguments. The song came off Cassper Nyovest's 2017 album titled Thuto.
5. Ice Prince – N Word (Remix) ft. AKA
AKA won the battle here when he spoke about Nigeria's crisis of 2013 of the kidnapped girls. He treated his fans to a unique punchline and gave them a slang – "Bring Back Our Girls".
The Nigerian rapper released the song in 2013 under the production of the Mavin Boss, Don Jazzy.
6. AKA – Main Ou's ft. YoungstaCpt
YoungstaCPT is known for coming out stronger every time on tracks. He took the show on the track and left AKA to no competition.
7. Stogie T – All You Do Is Talk ft. Nasty C, Boity & Nadia Nakai
Boity proved to her fans she is truly more than a rapper on the song. She answered the critics against her and even did it with top-notch Hip Hop artists in the industry.
She made it an opportunity to take her throne as she stole the show from them all.