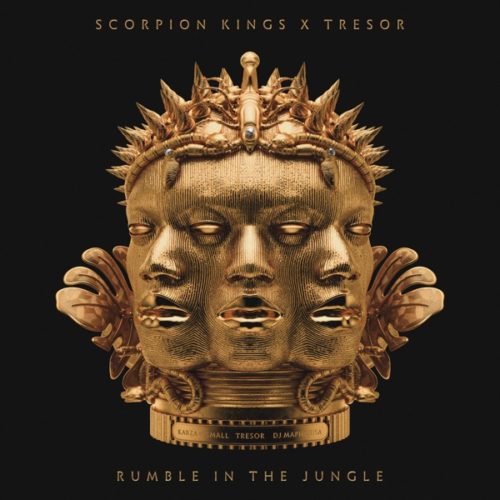 Kabza De Small, DJ Maphorisa, and Tresor takes it higher as they deliver their album tracklist titled Rumble In The Jungle.
Scorpion Kings and Tresor have been working on the album since last year as they plan to take Amapiano to another level in the world again.
In promoting the album last year, they came ahead with a track titled Funu, which appears as the second track on the album.
They also dropped Folasade off the album where Tresor expressed his love for the Nigerian girl titled Folasade.
The album is also officially set to drop on the 10th of April 2021.
With featured artists like Tyler ICU, Mas Musiq, and Beatenberg, they take tracks and do their best.
ALBUM: Kabza De Small, DJ Maphorisa & Tresor – Rumble In The Jungle (Tracklist)
1. Kabza De Small, DJ Maphorisa & Tresor – Stimela
2. Kabza De Small, DJ Maphorisa & Tresor – Funu
3. Kabza De Small, DJ Maphorisa & Tresor – La Vie Est Belle
4. Kabza De Small, DJ Maphorisa & Tresor – Folasade
5. Kabza De Small, DJ Maphorisa & Tresor – Soro
6. Kabza De Small, DJ Maphorisa & Tresor – Dust In The Wind ft. Beatenberg
7. Kabza De Small, DJ Maphorisa & Tresor – Angelina
8. Kabza De Small, DJ Maphorisa & Tresor – Cherie – Tyler ICU
9. Kabza De Small, DJ Maphorisa & Tresor – Mali Mali ft. Mas Musiq
10. Kabza De Small, DJ Maphorisa & Tresor – Neriya
11. Kabza De Small, DJ Maphorisa & Tresor – Limbisa Nga
12. Kabza De Small, DJ Maphorisa & Tresor – Malaika
13. Kabza De Small, DJ Maphorisa & Tresor – Starry Night
14. Kabza De Small, DJ Maphorisa & Tresor – Love Like A Weapon