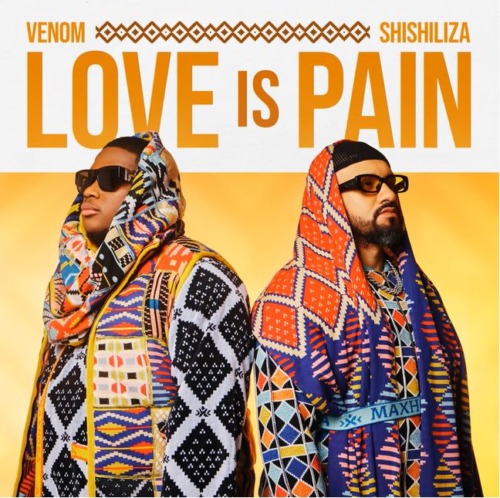 Venom and Shishiliza are set to drop their first album this year titled Love Is Pain.
They prepare the way for their fans by releasing the tracklist first and letting them know what to expect from it.
The Amapiano duo also made sure they included their breakout song, Sondela featuring Yumbs, Raspy, Blxckie, Riky Rick, and Tshego. The album is set to be officially out 3rd of September 2022.
Venom and Shishiliza also recently delivered Vuka featuring Aubrey Qwana, Majorsteez, Howard, and Paula Sibiya.
The year is sure to hold more projects as they include theirs in it.
ALBUM: Venom & Shishiliza – Love Is Pain (Tracklist)
1. Venom & Shishiliza – Mina Nawe ft. S.O.N, BoiBizza & Mpho Sebina
2. Venom & Shishiliza – Legane ft. Raspy, Howard, Aubrey Qwana, Focalistic, King illest & S.O.N
3. Venom & Shishiliza – Vuka ft. Aubrey Qwana, Majorsteez, Howard & Paula Sibiya
4. Venom & Shishiliza – uThando ft. Blxckie, Jay Sax, 031choppa, S.O.N, Sizwe Alakine & Herc Cut the Lights
5. Venom & Shishiliza – The View ft. Reed & Nacho
6. Venom & Shishiliza – Sebenza ft. S.O.N, Loki & BoiBizza
7. Venom & Shishiliza – My Lavo ft. S.O.N, Raspy, Zadok & Nvcho
8. Venom & Shishiliza – Cold Outside ft. DBN Gogo & Blxckie
9. Venom & Shishiliza – Sondela ft. Yumbs, Raspy, Blxckie, Riky Rick & Tshego
10. Venom & Shishiliza – Love is Pain ft. Mr. Selwyn
11. Venom & Shishiliza – Ngiyazifela ft. S.O.N, Daecolm & Mr Selwyn
12. Venom & Shishiliza – We Outside ft.Stephen of kent, Aubrey Qwana, S.O.N & Roiii
13. Venom & Shishiliza – Condema ft. Mzu M, Nvcho & BoiBizza