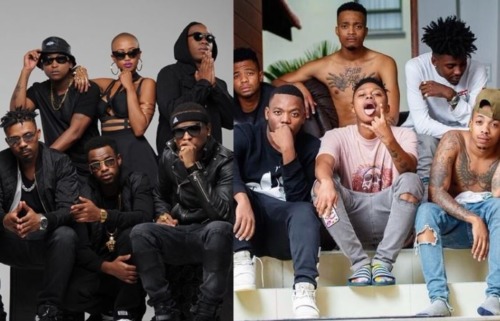 CashTime versus The Wrecking Crew debate has taken over social media, as mzansi compared the group, stating which made the most significant impact in the South African hip-hop industry.
CashTime consisted of these rappers: K.O, Moozlie, Ntukza, Zingah, Michamelo, KiD X, AB Crazy, Ma-E, and a few others.
While TWC members were A-Reece, Wordz, Ecco, B3nchMarQ, Flame, MashBeatz, 1000 Degreez, Tyga Bankz, Mellow, and Ex Global.
Zingah who presumably sparked the debate on Twitter, adamantly rates his ex-group over TWC.
See comments and reactions below:
"Surely y'all dont understand Impact … I personally loved TWC bcz of A-reece & Mashbeats…I saw rappers changing they rap style, swag.. bcoz of cashtime…. Pour some respect of Dust music…and also… TWC wasn't gonna be known if it wasn't for Reece & Mash," a tweep wrote.
This is the cashtime we talking about The Dust version https://t.co/zIFfww7fSF pic.twitter.com/qwdME9OsX7

— Lord ⚪️ (@Lordofthe2000) May 25, 2023
Let's forget impact let's talk about how many guys from Cashtime are still relevant right now

— ✯ (4th) (@SihleIV_) May 24, 2023
@Zingah_LOTJ I am enjoying this episode bro, I think y'all had impact in different ways. CashTime impacted the whole country, even people who don't love HipHop were aware of CashTime. TCW impacted city kids more. pic.twitter.com/q6uuDaQRsz

— Shinobi (@shinobey_sa) May 25, 2023
You can't compare TWC with CashTime during the dust era. It shouldn't even be a debate/topic to even begin with.

— L I N D K A Y (@LondonWszp) May 25, 2023
They have this wild obsession with streaming as if that shit makes real money here in Southy… you guys sold physical copies , sold real merch & went touch the real people at packed shows .

Cashtime didn't even have to drop 100 songs for that to happen.

— Lwanda Bana (@lebron_griffin) May 25, 2023
I'm all for the TWC & Cashtime discourse on the tl, but Boyz 'n Bucks is where I draw the line, don't disrespect what those guys did and meant to the industry.

— Freddy Voster (@freddyvoster) May 25, 2023
Dawg do u know that Jordan will always be part of the culture no matter what s booming, if Reece made u love Vans it's aight but thina we got that from Weezy. Cashtime's impact is like no other https://t.co/5Iz6cKUJHX

— Sai-bhudda (@SaneleNtshingi4) May 25, 2023
"Hare arabe di fone.. Eh jo, re on nou Re on nou jou">>>> Cashtime discography https://t.co/FSIwQ6l4Hl

— yo bf (@Modimo999) May 16, 2023
A-Reece washes K.O and the entire cashtime combined

— A-Reece Universe (@ReeceUniverse) May 16, 2023
Lmaaaaaao. I didn't want to get involved in the Cashtime v TWC debate but Boyzn Buckz is where I draw the line. RELAX https://t.co/gf1gLxr9m2

— N. (@icembelembiza) May 25, 2023