Da L.E.S goes legal against Carlene Brown who accused the rapper and two other men of gang raping her.
Weeks ago, the lady took to her Instagram stories and opened up about how the three men gang-raped her.
the rapper whose real name is Leslie Jonathan Mampe Jr denies the allegations in an official statement released on Wednesday afternoon.
The allegation made by Carlene Brown De Jongh have no foundation and are defamatory, hurtful, and wrongful. These were intended to humiliate Da L.E.S and undermine his good reputation."
"Da L.E.S categorically denies all the spurious and unfounded allegations contained in the aforesaid post," the statement reads.
It says the rapper "will seek all legal remedies to ensure he maintains his innocence. A criminal case of defamation has already been instituted and is under investigation by the South African Police Services."
Read the full statement below: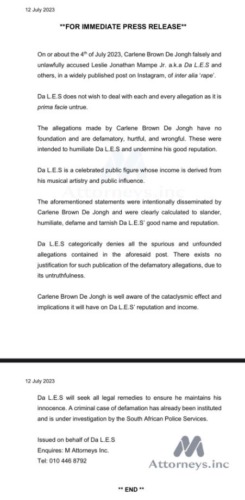 I've seen about 19 allegations from different women for years now saying you raped them, there's no way they all just want to ruin your so called good reputation.

— . (@theboystvz) July 12, 2023