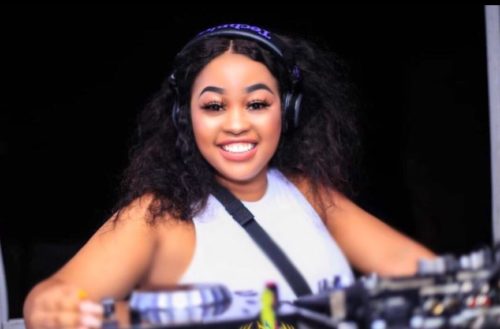 Ukhozi FM announces DJ Hlo as the winner of the Song of the Year; an event most South Africans anticipate at the last day of every year.
The DJ who is reportedly the first female to win this category was nominated alongside the likes of Makhadzi and Zakes Bantwini.
Taking to social media, she announced her latest win, and people jumped on the post to congratulate her.
She won with the song, Isibani featuring DJ ManzoSA and Siboniso; the award is won by the people's votes.
THANK YOU.❤️ #Isibani pic.twitter.com/xdSieSIH0q

— dj hlo (@dj_hlo) December 31, 2021
However, it was disappointing for some netizens, as they expected Zakes Bantwini to take the win home, with his hit single, Osama.
Taking to Twitter, people oozed out their anger and disappointment at Ukhozi FM again, as it's become an annual act for the radio station to irk some mzansi netizens.
Check out reactions below:
Tribalism yamasimba, congratulations to the 1st female DJ Hlo to win song of the year pic.twitter.com/MSeniGGzqk

— Thabiso☆Mthembu (@Mvelase_TB) January 1, 2022
For Zulus to realise that Ukhozi does not represent SA stop forcing it down people's throats!

For Limpopians to focus on their own stations and stop getting butthurt over what song Ukhozi plays!

See… tribalism avoided!

Dj Hlo Zakes Bantwini Tribalism Lady du #SongOfTheYear pic.twitter.com/d16CPuxq8K

— Man Not UmalambaneZN (@UmalambaneKZN) January 1, 2022
This Year be Like DJ Hlo

When they think you're nothing and you won't make it

Just flourish right in front of their eyes.. Ungabangi umsindo

— ChrisExcel (@ChrisExcel102) January 1, 2022
#UkhozifmNYE Even Zulu people are still tryna figure out who's Dj Hlo. who are we to ask re le Limpopo pic.twitter.com/ff7Erl2MZU

— jacobs_montex (@Dominant_Montex) December 31, 2021
If the song is popular enough you don't need to listen to iRadio to know about it….siphila kumaxesha eSocial media fondin

— Radio Addict (@therealRMS1) January 1, 2022
UKhozi FM is radio station mainly for those who speak or understand isizulu.

You will never hear a Zulu person complaining about the song of the year in Limpopo,Lesedi FM or on any other radio stations.#SongOfTheYear
Dj Hlo

— Azania (@azania1023) January 1, 2022
South Africans: Asibe Happy will be the song of the year

Ukhozi FM: We'll See About That. DJ Hlo, phakama bakubone

#UkhozifmNYE #SongOfTheYear pic.twitter.com/jk6fmBYeFJ

— JESUS is the KING (@NkosinatiMagwa) January 1, 2022
One thing about abalaleli boKhozi they will vote for the Fav unlike keyboard warriors who will Nywe nywe but zero action! Congratulations to DJ Hlo you deserve this win. #UkhozifmNYE and not everyone likes amaPiano wenu! https://t.co/uKOhyiuhda

— Dr Mgabs Omuhle ❤️ (@nok_dladla) December 31, 2021
Dj Hlo song has 49k view on YouTube but she got 214k votes mmm interesting #SongOfTheYear

— Ntomb'yomzulu (@YomzuluNtomb) January 1, 2022
The disrespect on Amapiano on this country is real. Amapiano carried us through Covid times. Hit after hit beke le beke. Only when the curfew is being lifted kuwina o DJ Hlo esingabaziyo. Hayi this country not even Zakes Bantwini or Sun-El ke. The whole Hlokoloza

Jager henny pic.twitter.com/HAW4L8ExI4

— The Real Afrika (@TheRealMeaf) January 1, 2022
Are you really happy? pic.twitter.com/gIDI06cleP

— Rumani® (@RealMrumaDrive) January 1, 2022