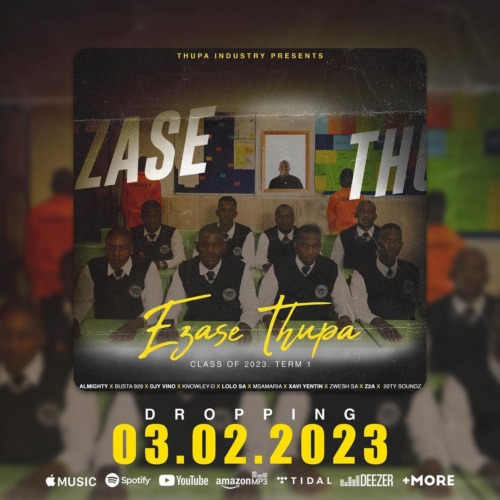 Ezase Thupa record label prepares this upcoming project titled Class of 2023 Part 1.
They open the way with the tracklist to reveal it will hold 10 tracks with artists like Kabza De Small, Busta 929, MaWhoo, and a few more.
Class of 2023 is set to drop on the third day of the second month in 2023.
The record label boss, Busta 929 also recently dropped a single titled Go Harder.
Other Ezase Thupa artists like Almighty, Xavi Yentin, Zwesh SA, and a few more will make their first appearances for the year.
They continue to do more for their fans as they make this new involvement.
Ezase Thupa – Class of 2023 (Part 1) (Tracklist)
1. Ezase Thupa & Almighty – Okay ft. Djy Vino, Scotts Maphuma & Cowboy De Vocalist
2.Ezase Thupa & Busta 929 – Moya ft. MaWhoo & Knowley-D
3. Ezase Thupa & Djy Vino – KVK ft. Kabza De Small, Deeper Phil & Koppz Avenue
4. Ezase Thupa & Knowley-D – Abagibel' ft. MaWhoo & Almighty
5. Ezase Thupa & Lolo SA – Run Flat ft. Busta 929, Almighty & Zwesh SA
6. Ezase Thupa & Msamaria – Tsekeleke ft. Djy Vino
7. Ezase Thupa & Xavi Yentin – Skeem Saka ft. Knowley-D
8. Ezase Thupa & Zwesh SA – Palesa ft. Busta 929 & Zuma
9. Ezase Thupa & Z2a – Point At Them ft. Busta 929 & Djy Vino
10. Ezase Thupa & 20ty Soundz – Mercedes ft. Busta 929, 2woshort & Stompiiey
View this post on Instagram