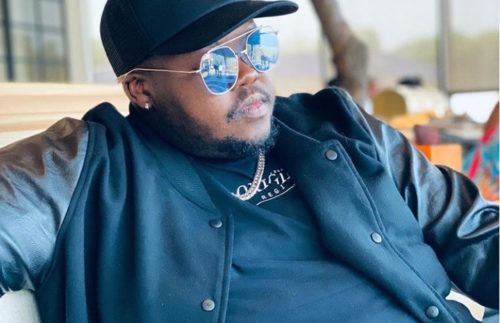 Heavy K has expressed a huge disappointment in Mac G for being a pathological liar.
It was a bit rough between them last week after the Podcast presenter revealed on an episode of his Podcast and Chill that the music producer claimed Black Coffee's Subconsciously album which he won a Grammy for is rubbish.
"… Heavy K said that the album Black Coffee actually won the Grammy for was pap… He said during the interview we did with him, he said the album was pap," Mac G stated.
The DJ denied the claims with evidence that he shared on social media, but it appears Mac is adamant about taking back his words which triggered Heavy to call him a pathological liar.
"Honestly that nyaope boy Mac G can go fuck himself, what I picked up the guy is a pathological liar nje, no hope for that guy imagine being called a narcissist by Mac G when his a root of narcissism, what's more, crazy it's the fact he even believes his own lies, sokhe sibone," K tweeted on Monday.
Heavy K further shared screenshots of his chat with the presenter, but he claimed it's not a big deal.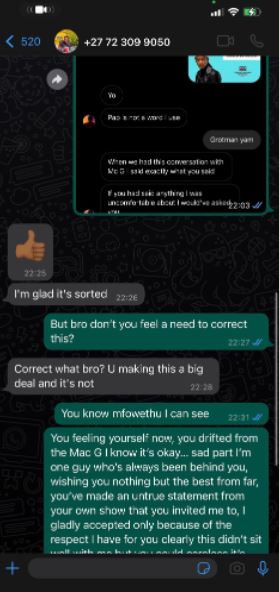 This fucken guy he acts as if his that important or impactful that I was bothering him or something? Not everybody deserves fame! Bitch you misquoted me & that's the that you are fucken wrong qha lomnqundu pic.twitter.com/PCss2gipVX

— HEAVY-K (@HeavykDrumboss) April 25, 2022
The Drumboss also called out Mac's co-presenter, Sol, for supporting the lie despite knowing he never made such a statement.
"As for you @Solphendukaa, I'm super disappointed because more than anyone you know your mate is wrong & whatever the shit he said about me today ain't even close to the KHUSTA you know but we keep it moving I still got love for you my dawg I'll keep my distance though."