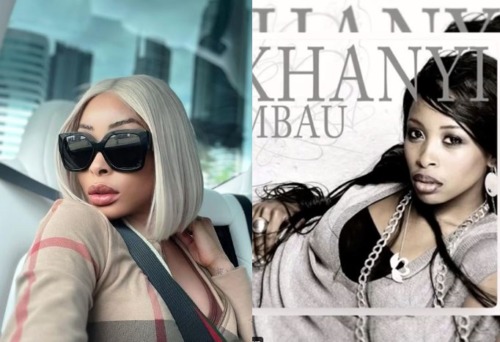 Khanyi Mbau trends on social media over her old songs, Dunusa and Igwinya.
The South African actress is known to be a close friend of the music industry but she's inconsistent in dropping songs.
In 2010, Mbau released an album which has suddenly gained recognition in 2023.
Tik Tok users have started to create content for the song, while others mocked the lyrics.
"Khanyi Mbau was so unserious. She really didn't sing "Bhuti ndicel'igwinya please. Iskhokho sidl'amagwinya" in 2010. How in God's name did I miss this era?" a tweep wrpte.
See videos and reactions below:
😂😂😂😂😂😂😂😂 pic.twitter.com/wbxpCoApjs

— L D (@static_an) March 16, 2023
Whoever found Khanyi Mbau's Igwinya will not see heaven 😂😭

— Teezy (@OtengM_) March 16, 2023
Lol OMG Khanyi Mbau really released this? pic.twitter.com/Ym1VeDx8XM

— nganekwane (@RobyreenT) March 16, 2023
do yourself a favour and listen to 'igwinya' by khanyi mbau😭🔥 pic.twitter.com/ClaKbILekH

— zipho (@itszipho_khoza) March 16, 2023
And then why weren't we told about Khanyi Mbau's banging vocals ??? 😭😭😭 pic.twitter.com/6ZOAllF1yJ

— Toothless (@Deee___) March 15, 2023
Those Khanyi Mbau songs? Chile it's unbelievable 😂😳😳😂 pic.twitter.com/LuHqE7Ggcf

— BunnyBoo (@Bunny_BooII) March 16, 2023
you know what, at the first opportunity l, i'm playing those 2010s khanyi mbau joints at the function. they're actually hot 😭

— 3000 (@bothomaje) March 17, 2023