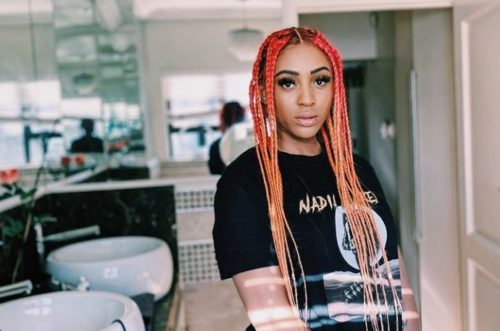 Nadia Nakai's fans are not smiling after a new video of the star saying she will stop rapping surfaced on social media.
On Tuesday, the rapper dropped a teaser of her new TV show to premiere on the 25th of November, 2020.
In one of the scenes in the video, Bragga was seen telling her guest that "I don't think I wanna rap now, I just want to make money."
"Not Bragga saying she doesn't want to rap anymore. Congratulations @Nadia_nakai on your new ventures you were born to be great it's been forever you deserve all the blessings coming your way God bless your hustle," the fan commented.
Nadia reacted to the saying she shouldn't be misunderstood, but watch full clip before making such claim.
"You gonna have to watch the full episode to know what I meant lol."
You gonna have to watch the full episode to know what I meant lol https://t.co/a9g9srtT58

— Practice ft Vic Mensa (@Nadia_nakai) November 10, 2020
‼️ANNOUNCEMENT‼️ IM PROUD to announce my new show called THE NAKED ROOM comin to @channelotv on the 25th Nov! The 8 episodes include performances & interviews with artists dat continuously SHIFT the culture! Call me Bragga Boss Producer! Powered by @haus_wine & Bragga Productions pic.twitter.com/7YhDKGEaTq

— Practice ft Vic Mensa (@Nadia_nakai) November 10, 2020