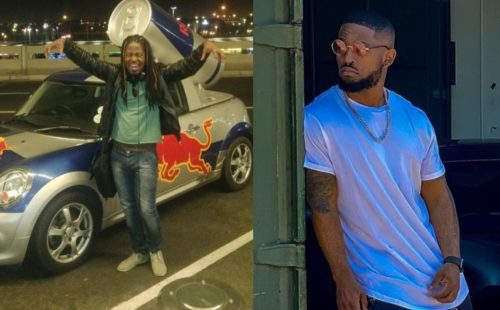 Prince Kaybee did a throwback to winning his first DJ competition, which was organised by Red Bull, "The Redbull Campus Clash".
The DJ shared photos of his excitement back then, and how he posed with the award.
ThrowBack to winning my first ever Dj Competition. The Redbull Campus Clash.🥇🏆

Keep sowing, your time is near❤️ pic.twitter.com/FJk9pwCfgL

— PROJECT HOPE (@PrinceKaybee_SA) November 20, 2020
A curious fan who knew he was on dreadlocks before cutting his hair, asked why the change of mind.
In Prince Kaybee's explanation, he made it known that he was battling with terrible headache for days, then he got frustrated and cut off the dreads.
"Sometimes when I had "lephondo" (don't know what to call it in english) I would suffer a headache for 2/3 days. My lephondo was huge because my dreads were long so sleeping with the lephondo was also a nightmare because I like facing up, one day I couldn't tolerate it so I cut it," he tweeted.
Sometimes when I had "lephondo" (don't know what to call it in english) I would suffer a headache for 2/3 days. My lephondo was huge because my dreads were long so sleeping with the lephondo was also a nightmare because I like facing up, one day I couldn't tolerate it so I cut it https://t.co/jdRVoJF76h

— PROJECT HOPE (@PrinceKaybee_SA) November 20, 2020