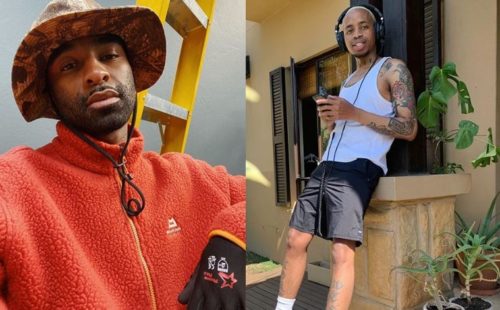 Riky Rick got Tshego in his feelings after being real with him.
As much as there's a high volume on the toxicity in the hip hop industry, some other artists are trying their best to make sure the industry stays calm and united.
Riky had a great day on Friday as he bought out Gucci and Louis Vuitton, and decided to support Tshego by buying his newly launched merch.
"We bought out the Gucci and Louis, cool, thats nice. Next mission, we buying out our friends brands🇿🇦🌍@tshego_worldwide merch just dropped nationwide at Factorie, show love if you can," Riky said.
Followers and other music artists hyped him for displaying such love; Tshego also reacted with:
"Thank you @rikyrickworld this shit right here I'll never forget! Your heart is gold bro ❤️ T⚡️H E G O x @factorie in stores and online now!"
"SHINE BRO!!!! Congratulations on this one, Big deal," Riky responded again.