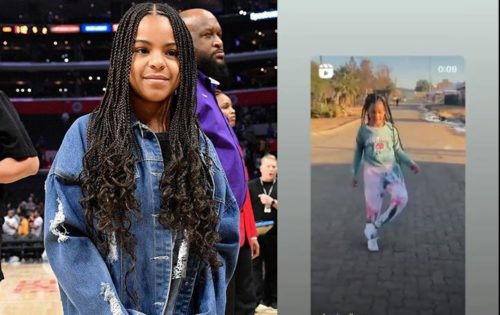 Beyonce's daughter, Blue Ivy is believed to be in South Africa serving stunning dance moves to amapiano songs.
Video of a young girl dancing to amapiano songs has gone viral on social media, rather than applaud the talented girl and move on, some persons assume the girl is the American star's daughter, Blue.
The video has caused debate on social media, as some persons are positive it's the young star, while others claim it's a South African girl.
Check out reactions and video below:
If you think this is Blue Ivy then there's something wrong with you 🤣🤣🤣🙄 pic.twitter.com/YRGWgdj4jm

— CyberBullying Defense Force SA 🇿🇦 (@Omilly_N) August 5, 2021
Blue Ivy dancing better than her momma!🔥 https://t.co/Hu6dpf3cZO

— A Y A N D A 🖤 (@PreciousMalesa) August 5, 2021
Blue Ivy is in SA shooting a music video ❤️ https://t.co/dzkh6fJiTT

— Dr. Dhlamini (@Melusi_MD) August 5, 2021
There's a reel of Blue Ivy dancing to amapiano in mamelodi 😭

— Bongani (@DamnVince_) August 5, 2021
I won't lie I thought this was blue ivy for a bit https://t.co/IwOX8tM56Z

— mands (@MandyKinZz) August 5, 2021
So Beyonce is in SA with Blue ivy?😳😳😳 and she is dancing to amapiano🔥🔥🔥 https://t.co/5Mf6TjLZDT

— Nomfundo Ngoca (@NgocaNomfundo) August 5, 2021
It's some little girl on Instagram dancing from SA so now everyone says she looks like blue ivy 😭

— cassper's daughter.❤️ (@RoyaltyGomo) August 5, 2021
😂😂😂😂😂😂 that's Blue Ivy idc!!! https://t.co/dreeCvEdWk

— !!!! (@zulu_guy) August 5, 2021