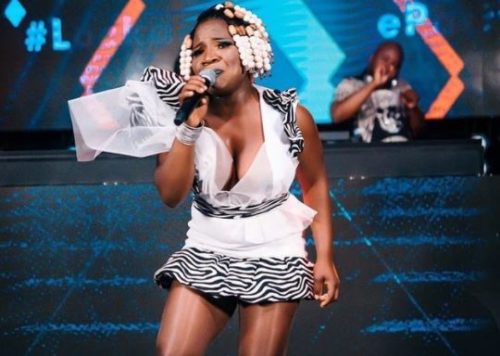 Makhadzi is heartbroken for not securing a nomination at the South African Music Awards (SAMAs27) despite submitting her form.
After the full list was unveiled on Wednesday evening, South Africans were furious at the organizers for not nominating the singer who gave her all this year.
While people speak in her defense, Makhadzi took to Twitter revealing how pained she is; she also revealed that she submitted.
"I did submitted samas nomination forms but unfortunately maybe I didn't meet their requirements," she tweeted.
South Africans dragged SAMA for failing to nominate the singer.
I did submited samas nomination forms but unfortunately maybe I didn't meet their requirements 😭😭

— Makhadzi Muimbi SA (@MakhadziSA) May 19, 2021
Makhadzi Gets Snubbed Again by the #SAMA27 After giving us One of the best Albums last year, She was supposed to be the most Nominated artist this year.. pic.twitter.com/58JJz7jrSm

— VenRap (@VhoMrapper) May 19, 2021
South Africa I would like to Apologize on behalf of Makhadzi for being talented 😭😭😭😭😭😭 pic.twitter.com/gvuCzfD3HM

— Ndi MuVenda (@Ndi_Muvenda_) May 19, 2021
Makhadzi is Bigger than the SAMAs.

Before we go any further… She's BIGGER.

Nothing will dim her light. She's a MEGASTAR🥰💚 pic.twitter.com/z9DMALP0hq

— M A K H A D Z I Stan (@Khadzinator) May 19, 2021
@MakhadziSA is us & we're Makhadzi ✊🏾 pic.twitter.com/AJSkXtQZ3n

— Tumi Sole (@tumisole) May 20, 2021
I'm not a fan of Makhadzi's music but what the #SAMA27 did is disrespectful. This woman puts blood & sweat into her music, she deserves respect. pic.twitter.com/TmBper7Ixa

— Thyto🇿🇦 (@thatohassen) May 19, 2021