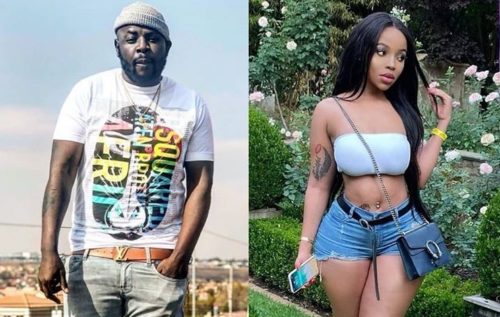 Fans React To A Video Of DJ Maphorisa's Studio Session With Faith Nketsi! Faith Nketsi is the most recent of personalities to switch from being a celebrity to being a rapper.
We have seen quite a number of local female celebrities switch from the proffessions they came in with to being rappers. Boity and Moozlie are the two most prominent female rappers who switched from being presenters to being rappers.
The queen of twerk recently decided to join the lot and made a transition with one of the biggest indie labels in South Africa. She signed to Blaqboy Music which has a rather strong artist lineup backing it with some of the biggest local rappers owned by DJ Maphorisa.
Some of her singles include; Ishuu, direspectful EP
On the most recent of Faith Nketsi's TV Shows Have Faith, she shares a studio session she has with artists from the Blaqboy Music and the Yes man in the room seemed to be DJ Maphorisa. After a snippet from the show was shared on Twitter by MTV, fans went on to share their thoughts with most dragging Maphorisa for his reactions to Faiths lines.
See reactions below
Maphorisa saw potential in faith but mina I still say he's making her look like a joke shame kodwa qhubeka but what do you mean when you say "Get off my dick, my shit is hot like a geyser" ?? pic.twitter.com/adc8zpY4Cb

— Aii go Monate mahn💃💃 (@SassyNorita_) November 14, 2019
You think Maphorisa is lurking? 😂😂

The Lawd of Hits is tryna hit🤣 pic.twitter.com/aJtVNbNCFf

— RUDOLPH😈 (@MonkeyROY1) November 14, 2019
That "yhoooo" from Maphorisa 😭😭😭😭😭😭😭😭😭😭😭😭😭😭

I really hope my Bros don't lie to me like this. 💔 https://t.co/nbOzpSuE9g

— Çõôçhìë Mōñ$tèr (@Koketso_C137) November 14, 2019
Recently on #HaveFaith we showed a different side to @_faith_nketsi. She shares with us why she went into music & where the love comes from.

Tune into #HaveFaith every Monday @ 9:30pm onCh 130 on @DStv pic.twitter.com/smcyllTR9t

— MTVAfrica (@MTVAfrica) November 14, 2019
Faith: I'm back bitch both bitch bitching

Maphorisa : yooooooooh pic.twitter.com/TjzMFaGtXb

— K U L A N I (@kulanicool) November 14, 2019