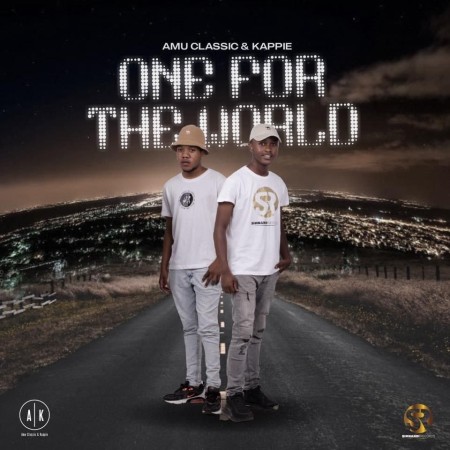 Amu Classic and Kappie team up on a new project titled One For The World.
They bring the album with 23 tracks in it.
Taking the game higher, they featured the likes of Young Stunna, Loxion Deep, Tman Xpress, and a few more.
Amu Classic and Kappie hold the new project after appearing on DJ Jaivane and Sinny Man'Que's track titled Le' Mpilo.
Taking the beat higher, they drop this new project.
ALBUM: Amu Classic & Kappie – One For The World
1. Amu Classic & Kappie – Asambeni ft. Loxion Deep & Young Stunna
2. Amu Classic & Kappie – Uthando ft. Mashudu
3. Amu Classic & Kappie – Batlao Hurda ft. Tman Xpress, Djy Jaivane & Sinny Man'Que
4. Amu Classic & Kappie – Qhude ft. Djy Jaivane & Mashudu
5. Amu Classic & Kappie – Ba Nomona ft. Visca & Didi
6. Amu Classic & Kappie – Lomhlaba ft. Young Stunna, Hulumeni & Sabza
7. Amu Classic & Kappie – Moshimane ft. Muziqal Tone, LeeMcKrazy & Mashudu
8. Amu Classic & Kappie – Khombu Muntu ft. Tman Xpress & Sinny Man'Que
9. Amu Classic & Kappie – Sfelakude ft. Spizzy, Blissful Sax & Frankeyz
10. Amu Classic & Kappie – Mama Ka Thandiwe ft. Tman Xpress & Siya M
11. Amu Classic & Kappie – Akulalwa ft. Sinny Man'Que, Young Stunna & LeeMcKrazy
12. Amu Classic & Kappie – Le'Mpilo ft. Sinny Man'Que & Young Stunna
13. Amu Classic & Kappie – Shlobo Sam ft. Loxion Deep & Tman Xpress
14. Amu Classic & Kappie – Umakhelwane ft. Almighty, Young Stunna & Hulumeni
15. Amu Classic & Kappie – One For The World
16. Amu Classic & Kappie – Ngaphakathi ft. Sego M & Sinny Man'Que
17. Amu Classic & Kappie – Ubambo Lwami ft. LeeMcKrazy & Sinny Man'Que
18. Amu Classic & Kappie – Indoda Enemali ft. Muziqal Tone, Djy Jaivane & Mashudu
19. Amu Classic & Kappie – Golf 7 ft. Visca & Zulu Tariana
20. Amu Classic & Kappie – Jwala Bedisa ft. Tman Xpress
21. Amu Classic & Kappie – Healer Of Souls ft. Da'ish
22. Amu Classic & Kappie – Umjolo ft. Muziqal Tone & Spizzy
23. Amu Classic & Kappie – Weshe ft. SjavasDaDeejay, LeeMcKrazy and J & S Projects