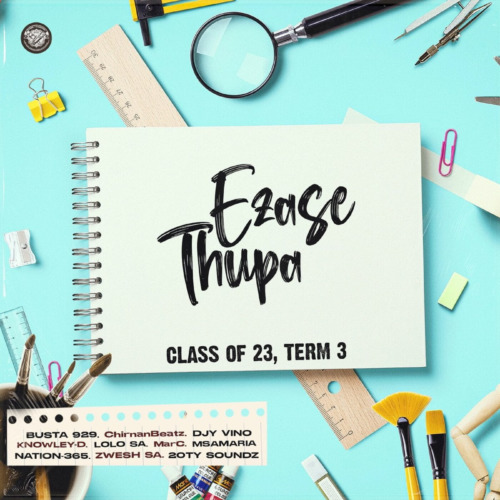 "Ezase Thupa Class of 23 Term" is an album by Busta 929 that showcases the artist's prowess in the realm of Amapiano.
Each track within the album offers a different facet of Busta 929's musical expertise, from intricate beats to captivating melodies. "Ezase Thupa Class of 23 Term" invites listeners to immerse themselves in a diverse and exciting musical landscape that celebrates the power of music to evolve and redefine itself.
Busta 929 has shown consistency in the game so far by his new releases. He made his most recent when he worked with ChirnanBeatz on Khanyisa featuring Reeh Musiq and Zoe Zee.
With its combination of complex instrumentals and infectious rhythms, "Ezase Thupa Class of 23 Term" is more than just an album; it's a musical testament to artistic evolution and the limitless possibilities of Amapiano music.
This album serves as a testament to Busta 929's artistry and innovation in the world of Amapiano, offering a sonic escape that allows listeners to embrace the richness of musical expression and the ever-changing nature of the genre.
ALBUM: Busta 929 – Ezase Thupa Class of 23 Term
1. Ezase Thupa & Busta 929 ft Djy Vino & uLazi – Forgive Them
2. Ezase Thupa, Busta 929 & ChirnanBeatz ft Almighty, Djy Vino, Lolo SA & Nation-365 – Anim'khuzeni
3. Ezase Thupa & KNOWLEY-D ft Busta 929 & 20ty Soundz – Nobody
4. Ezase Thupa & Lolo SA ft Mzostra & Msamaria – Rata Wena Fela
5. Ezase Thupa & MARC ft Busta 929, KNOWLEY-D, 20ty Soundz, Lolo SA & Nation-365 – Chommie
6. Ezase Thupa & Msamaria ft Busta 929, Djy Vino, Shortgun & Lorenzo – Chase
7. Ezase Thupa & Nation-365 ft Djy Vino & Zwesh SA- Ngiyaz'fela Ngawe
8. Ezase Thupa, Zwesh SA & Busta 929 ft 2woshort & Lolo SA – May'hlangana
9. Ezase Thupa & Busta 929 ft 20ty Soundz & Djy Vino – Oshuko
10. Ezase Thupa, ChirnanBeatz & Busta 929 ft Reeh Musiq & Zoe Zee – Khanyisa
11. Ezase Thupa & Djy Vino ft Busta 929, Lolo SA & T.M.A_Rsa – E'partini
12. Ezase Thupa & KNOWLEY-D ft Future Saxo – Beaux Sons
13. Ezase Thupa & Lolo SA ft KNOWLEY-D, Nation-365 & 2oty Soundz – Uzong'dina
14. Ezase Thupa & MARC ft Busta 929, ChirnanBeatz, Djy Vino & Almighty – SugerCane
15. Ezase Thupa, Msamaria, Busta 929, KNOWLEY-D & Shortgun – Amalevels
16. Ezase Thupa & Nation-365 ft KNOWLEY-D & Busta 929 – Ntwana Yam'
17. Ezase Thupa & Zwesh SA ft Busta 929 – Life After School 2.0
18. Ezase Thupa & 20ty Soundz – Isimo