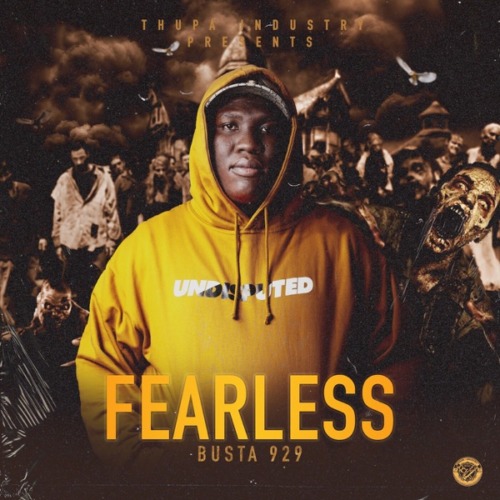 Busta definitely means business as he drops the tracklist for his upcoming Fearless album.
Busta is known for his heavy projects as he released an album with 19 tracks. Fearless holds artists like Murumba Pitch, Bassie, Aymos, Pabi Cooper, Reece Madlisa, Zuma, and others.
He made the pre-order announcement as he also dropped two tracks to support it namely; Ezase Gomtown featuring Djy Vino and Ngigcwele Ngaye featuring Reece Madlisa & Zuma
His consistency in the game made him deliver on Baba 92's Birthday Mix.
Busta sets the ball rolling as he drops this new album
1. Busta 929 – Yes We Are Thupa Industry (Interlude) ft. Almighty
2. Busta 929 – Bonomona ft. Murumba Pitch
3. Busta 929 – Siyo Jaiva Tot Tot ft. Lolo SA
4. Busta 929 – Impande Yesono ft. Bassie
5. Busta 929 – Venda
6. Busta 929 – Avulekile Amasango ft. Bassie
7. Busta 929 – Siyolala ft. M.J
8. Busta 929 – Ngigcwele Ngaye ft. Reece Madia & Zuma
9. Busta 929 – Umggomo
10. Busta 929 – Impilo ft. Aymos & Pabi Cooper
11. Busta 929 – Umdantso ft. Djy Vino & Msamaria
12. Busta 929 – Stoko ft. Bontle Smith, Djy Vino & Lolo SA
13. Busta 929 – Fearless
14. Busta 929 – Umilo ft. 2woshort, Almighty & Msamaria
15. Busta 929 – uMthandazo ft. Makwera, Zwesh SA, Lolo SA, Msamaria & 2woshort
16. Busta 929 – Amalobolo ft. Zwesh SA, Djy Vino & Lolo SA
17. Busta 929 – Sondela
18. Busta 929 – Ezase Gomtown ft. Djy Vino
19. Busta 929 – Ndiyabawela ft. Knowley-D & Lolo SA
20. Busta 929 – Happiness ft. Almighty & Msamaria