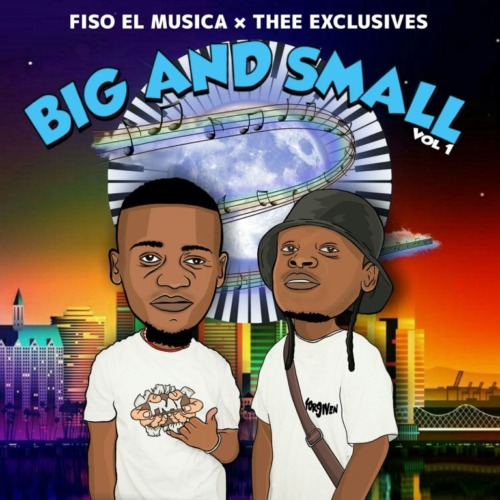 Fiso El Musica and Thee Exclusives pair up in releasing this new track titled Big And Small Vol 1.
They drop the track with 18 tracks featuring artists like DJ Jaivane, LeeMckrazy, Sinny Man'Que, and a few more on it.
In releasing the project, they also dropped Teka featuring DJ Jaivane.
The Amapiano artist releases this new project after he dropped Bhakaniya (Orlando Pirates) featuring Miano, Sims, Steleka, Ntosh Gazi, and Killa Punch.
Taking the groove higher for his fans, he drops this new project.
ALBUM: Fiso El Musica & Thee Exclusives – Big And Small Vol 1
1. Fiso El Musica & Thee Exclusives – Bavumile ft. Sego M
2. Fiso El Musica & Thee Exclusives – Yobe ft. Sinny Man Que & Tracy
3. Fiso El Musica & Thee Exclusives – Meadowlands ft. LeeMckrazy, Sinny Man Que & Tracy
4. Fiso El Musica & Thee Exclusives – Dlala Fiso ft. Calvin Shaw
5. Fiso El Musica & Thee Exclusives – Sayitsheni ft. LeeMckrazy
6. Fiso El Musica & Thee Exclusives – Big & Small ft. Dsax
7. Fiso El Musica & Thee Exclusives – Teka ft. DJ Jaivane
8. Fiso El Musica & Thee Exclusives – Mgijimi Ft. Spizzy & LeeMckrazy
9. Fiso El Musica & Thee Exclusives – Shame Us ft. Sinny Man Que
10. Fiso El Musica & Thee Exclusives – Thandiwe ft, Sims & Lee McKrazy
11. Fiso El Musica & Thee Exclusives – Zekethe ft. Dsax
12. Fiso El Musica & Thee Exclusives – Inkani ft. Hulumeni
13. Fiso El Musica & Thee Exclusives – The Black OG (Tribute Mix)
14. Fiso El Musica & Thee Exclusives – Makhelwane ft. Leemckrazy
15. Fiso El Musica & Thee Exclusives – Molo ft. Spizzy & LeeMckrazy
16. Fiso El Musica & Thee Exclusives – Lengomo ft. LeeMckrazy & Tracy
17. Fiso El Musica & Thee Exclusives – Another Sunset Sax ft. Elite sax & Sinny Man Que
18. Fiso El Musica & Thee Exclusives – Teacher ft. Tracy & Musa Zwane