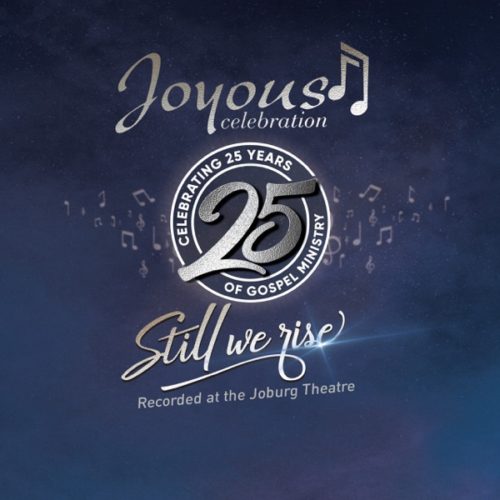 Joyous Celebration packs it all as they zip their tracks in an album titled Still We Rise Album.
They celebrate 25 years of Gospel Ministry together, recorded at the Joburg Theatre.
In showing their appreciation, they opened it with Ndenzel' Uncedo Hymn 377 before taking the next turn on Thank You Lord.
More from Joyous Celebration's catalogs are Unto Thee, Ngimbona Lapha Kimi, KwaZama Zama, Ngena Nawe, Sweet Jesus, and more from them.
From Potter's House also, they recently dropped Unkulunkulu Wezimanga, Sihamba Ngomoya Medley, and Ngizolibonga.
They make it larger this time as they drop their album project.
ALBUM: Joyous Celebration  – Still We Rise Album: Live At The Joburg Theatre (Live)
1. Joyous Celebration – Ndenzel' Uncedo Hymn 377 (Live)
2. Joyous Celebration – Thank You Lord (Live)
3. Joyous Celebration – Ka Mehla (Live)
4. Joyous Celebration – Bonginkosi Ngazo (Live)
5. Joyous Celebration – Jesus is Lord Medley (Live)
6. Joyous Celebration – Elakho Liphezulu (Live)
7. Joyous Celebration – Sofana Naye (Live)
8. Joyous Celebration – Cela (Live)
9. Joyous Celebration – Sebenza Ngami (Live)
10. Joyous Celebration – Grace and Mercy (Live)
11. Joyous Celebration – The Victory Song (Live)
12. Joyous Celebration – In Christ We Stand (Live)
13. Joyous Celebration – Mayenzek' Intando Yakho (Live)
14. Joyous Celebration – Camagu Ngonyama (Live)
15. Joyous Celebration – Days of Elijah (Live)
16. Joyous Celebration – Ngiyanikela (Live)