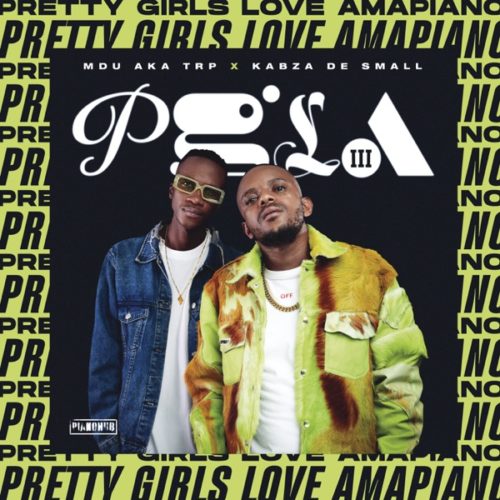 Kabza De Small and MDU aka TRP bring the last round of their Pretty Girls Love Amapiano Vol 3, part 5.
This collection holds the final collection as the full project drops with additional 25 tracks.
Holding the last collection on part 4, it had tracks like Seven Rings, Airplane Mode, Broken People, and a few more.
This last round holds no featured artists but holds bigger hits for the festive period.
Finally releasing the long-anticipated Pretty Girls project, the Amapiano producers take the game higher.
ALBUM: Kabza De Small & MDU aka TRP – Pretty Girls Love Amapiano Vol 3 (Part 5)
1. Kabza De Small & MDU aka TRP – Swimming
2. Kabza De Small & MDU aka TRP – Uni 2
3. Kabza De Small & MDU aka TRP – Trap
4. Kabza De Small & MDU aka TRP – Video Jive
5. Kabza De Small & MDU aka TRP – Motion
6. Kabza De Small & MDU aka TRP – Squid Game
7. Kabza De Small & MDU aka TRP – Plastic
8. Kabza De Small & MDU aka TRP – Ghostin'
9. Kabza De Small & MDU aka TRP – ActIve
10. Kabza De Small & MDU aka TRP – Choices
11. Kabza De Small & MDU aka TRP – Mile 28
12. Kabza De Small & MDU aka TRP – Never Mind
13. Kabza De Small & MDU aka TRP – Banganoya
14. Kabza De Small & MDU aka TRP – Friday Feeling
15. Kabza De Small & MDU aka TRP – Booth Five
16. Kabza De Small & MDU aka TRP – The Morning After
17. Kabza De Small & MDU aka TRP – PromIse
18. Kabza De Small & MDU aka TRP – Rumble
19. Kabza De Small & MDU aka TRP – Amarula
20. Kabza De Small & MDU aka TRP – Ascension Maxwell
21. Kabza De Small & MDU aka TRP – Burning Bridges
22. Kabza De Small & MDU aka TRP – Wall Street
23. Kabza De Small & MDU aka TRP – Soul To Soul
24. Kabza De Small & MDU aka TRP – Take Me Back
25. Kabza De Small & MDU aka TRP – Uncle Phil