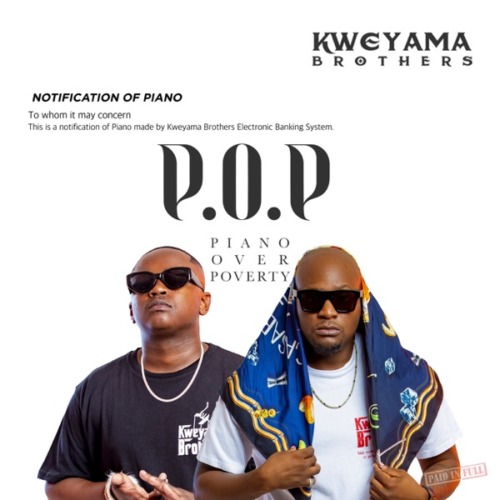 Kweyama Brothers push out this new album titled Piano Over Poverty.
They hold it with 12 tracks by collaborating with various artists on it.
The goal of the Kweyama Brothers is to spread the word about the movement and culture they are directing throughout the coast.
Kweyama Brothers also recently worked Slowavex, Triple X Da Ghost, and Effected on Balele featuring Pushkin, 2leestark, Skye Wanda, and TNT Muziiq.
As you listen, have an open mind to the development of one of South Africa's most popular musical exports.
ALBUM: Kweyama Brothers – Piano Over Poverty
1. Kweyama Brothers, Triple X Da Ghost & Effected – Bhut'John ft. Daliwonga & Slowavex
2. Kweyama Brothers & Triple X Da Ghost – Yugo Bomb ft. Effected
3. Kweyama Brothers, Triple X Da Ghost & Effected – Otsotsi ft. Benny Maverick & Uncool MC
4. Kweyama Brothers, Triple X Da Ghost & Effected – Ikhwela
5. Kweyama Brothers, Slowavex, Triple X Da Ghost & Effected – Balele ft. Pushkin, 2LeeStark, Skye Wanda & TNT Muziiq
6. Kweyama Brothers, Slowavex, Triple X Da Ghost & Effected – Overnight
7. Kweyama Brothers, Triple X Da Ghost & Effected – As'danse ft. Slowavex
8. Kweyama Brothers, Slowavex, Triple X Da Ghost & Effected – Helium ft. Chris Snakes
9. Kweyama Brothers, Slowavex, Triple X Da Ghost & Effected – Iy'khova ft. Benny Maverick & Thabiso Lavish
10. Kweyama Brothers & TNT Musiiq – VSOP ft. Blxckie, Benny Maverick, Springle & Pushkin
11. Kweyama Brothers, Slowavex, Triple X Da Ghost & Effected – Brooke Logan ft. Benny Maverick, Zaba & Khumbu_Keyz
12. Kweyama Brothers & Effected – Ribas ft. Triple X Da Ghost