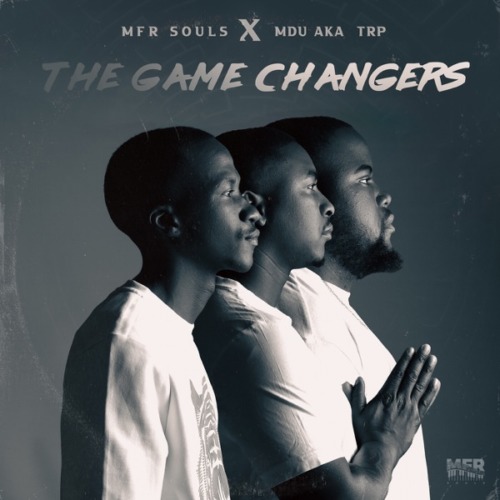 "The Game Changers" is a groundbreaking collaboration album between the acclaimed MFR Souls and the prolific MDU aka TRP. The album presents a diverse collection of tracks that redefine the boundaries of Amapiano and push the genre into innovative territories.
MFR Souls' signature style blends seamlessly with MDU aka TRP's innovative production, creating an album that is both cohesive and diverse. Each track within "The Game Changers" offers a unique sonic journey, showcasing the artists' ability to craft infectious beats and melodious compositions.
MFR Souls and MDU aka TRP introduced the project when they dropped The Game (Amapiano Bootleg).
It signifies a shift in the genre, introducing fresh sounds and creative explorations that set a new standard for Amapiano music. "The Game Changers" is a must-listen for Amapiano enthusiasts seeking an album that not only pays homage to the genre's roots but also propels it into uncharted musical territories.
ALBUM: MFR Souls & MDU aka TRP – The Game Changers
1. MFR Souls & MDU aka TRP – Praise (Intro) ft. Silas Africa & Moscow on Keys
2. MFR Souls & MDU aka TRP – The Way You Do ft. Malaika M
3. MFR Souls & MDU aka TRP – Abalele ft. Khanya Greens & Makhanj
4. MFR Souls & MDU aka TRP – Seasons
5. MFR Souls & MDU aka TRP – Sizo Buya ft. Mashudu & DSax
6. MFR Souls & MDU aka TRP – The Game (Amapiano Bootleg)
7. MFR Souls & MDU aka TRP – Imiyalo ft. Makhanj, Bassie, Moscow on Keys
8. MFR Souls & MDU aka TRP – The Game Changers
9. MFR Souls & MDU aka TRP – Amapholas ft. Lastborn
10. MFR Souls & MDU aka TRP – Stuff That ft. Mick Man