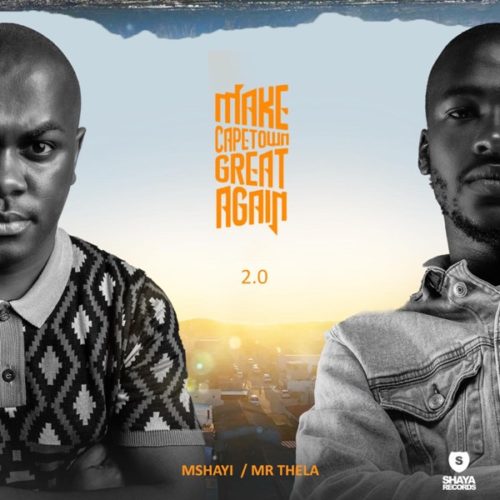 Making us proud always, Mr Thela and Mshayi drop their Make Cape Town Great Again 2.0 project.
They make it bigger this time as the project houses 25 great bodies of work which overwrites their previous project which held 11 tracks.
Mr Thela and Mshayi have been one of the most consistent duos for the year as they have been different hits starting from Make Cape Town Great Ep, to Kundalashe, iParty featuring T-Man, and a lot of heavy works from them.
They also delivered our favorite movie Bella Ciao anthem in a different GQom dimension and tagged it Money Heist Anthem (Bella Ciao).
Debuting a new one, they bring the likes of Xola Toto, Rhass, T-Man, and a few more on the album.
Senzo Afrika opened the album on Amandla before delivering it to Xola Toto on The World We Live In. They left all featuring on the 11th track as they went duo on the rest of the tracks.
Making us proud once again, our favorite duo, Mr Thela, and Mshayi drop this new project.
Mr Thela & Mshayi – Make Cape Town Great Again 2.0
1. Mr Thela & Mshayi – Amandla ft. Senzo Afrika
2. Mr Thela & Mshayi – The World We Live In ft. Xola Toto
3. Mr Thela & Mshayi – Breaking Boundaries ft. Xola Toto
4. Mr Thela & Mshayi – Abathakathi ft. Rhass
5. Mr Thela & Mshayi – Basebanintsi ft. Langa Jajula
6. Mr Thela & Mshayi – Game Changers ft. Xola Toto
7. Mr Thela & Mshayi – My Mother's Prayer (Vocal Mix) ft. Peace
8. Mr Thela & Mshayi – Peacemaker ft. Rhass
9. Mr Thela & Mshayi – Pandemic ft. Rhass
10. Mr Thela & Mshayi – Nibangaph' ft. T Man
11. Mr Thela & Mshayi – Thonti ft. RVKS, Rhass & Bravo Le Roux
12. Mr Thela & Mshayi – Bohlale Bethetha
13. Mr Thela & Mshayi – Kul'ntaba
14. Mr Thela & Mshayi – Su'gwaja
15. Mr Thela & Mshayi – The Mask
16. Mr Thela & Mshayi – Holy Bible
17. Mr Thela & Mshayi – Dolo Phantsi
18. Mr Thela & Mshayi – Nantsi'ngozi
19. Mr Thela & Mshayi – Amadodenu
20. Mr Thela & Mshayi – Street Game
21. Mr Thela & Mshayi – Phuma Kimi
22. Mr Thela & Mshayi – Step Se Bang
23. Mr Thela & Mshayi – As We Grow
24. Mr Thela & Mshayi – Kuthwani Kunje