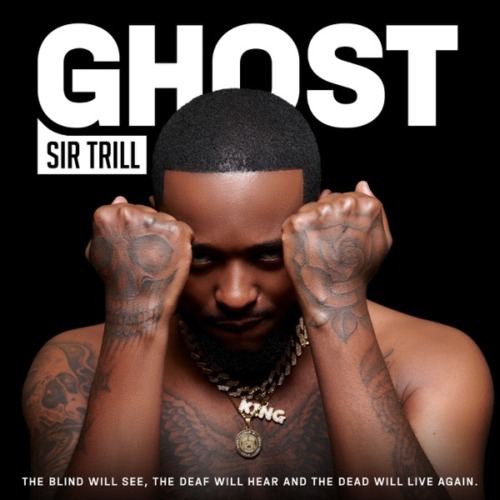 Sir Trill finally drops his long-awaited project titled Ghost.
The project comes so heavy as he drops 19 tracks featuring top artists in the industry.
Fans are still having their ears plugged to see if the project really worth the wait and issue with Sir Trill and his record Label.
Sir Trill made sure the album holds others like Ugogo featuring T&T MusiQ, Maboko featuring Daliwonga & Visca, and a few more on it.
He also recently worked with Yumbs as they worked on Ematshwaleni featuring Mellow, Sleazy, and M.J.
He is on a new level as he dares for greater impact.
1. Sir Trill – Busisa (Intro) ft. Nkosazana Daughter & Zaba
2. Sir Trill – Wena ft. Disciples of House
3. Sir Trill – Why Ninga Lali Emakhaya ft. Soa Mattrix
4. Sir Trill & Jessica LM – Lwandle Xiluva ft. ThackzinDJ & Tee Jay
5. Sir Trill – Staring ft. Bailey, DJ Givy Baby & Emjaykeyz
6. Sir Trill – Bebengazi ft. Soa Mattrix & DJ Givy Baby
7. Sir Trill – Ibasi Labelungu ft. Soa Mattrix
8. Sir Trill – Jean To Gin ft. Bailey & Emjaykeyz
9. Sir Trill – Mfaz' wo Mjita ft. Pushkin, Springle, T&T MuziQ & Tycoon
10. Sir Trill – iKoloi ft. Soa Mattrix & DJ Givy Baby
11. Sir Trill – Epatini ft. Soa Mattrix
12. Sir Trill – Batlao Hurdar ft. Soa Mattrix
13. Sir Trill – Maboko ft. Daliwonga & Visca
14. Sir Trill – Ngisize ft. Khanyisa, Tycoon & Marcus MC
15. Sir Trill – Nguwe ft. Tycoon & Marcus MC
16. Sir Trill – Nkantin ft. Bailey & Emjaykeyz
17. Sir Trill – Next Door ft. T&T MuziQ & Happy Jazzman
18. Sir Trill – Abayazi Abay' funayo ft. Soa Mattrix
19. Sir Trill – Ngilinde (Outro) ft. Raspy & Yumbs