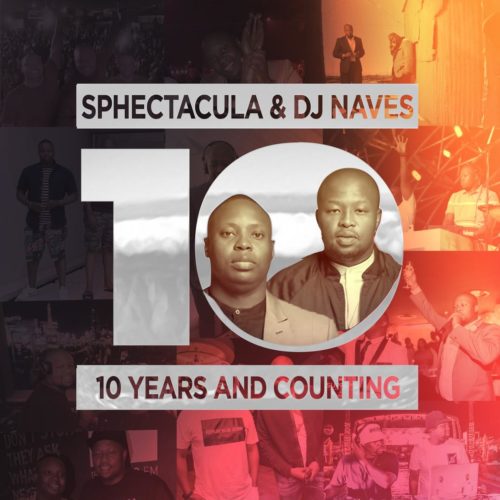 Sphectacula and DJ Naves finally drop their album titled 10 Years And Counting.
They celebrate their years of togetherness in a grand style and hold it with top artists in the industry.
In promoting the album ahead, they have released Bonke featuring Nokwazi & DJ Joejo, Masithandaza featuring Dumi Mkokstad, Matha featuring Focalistic & Abidoza.
Sphectacula and DJ Naves have been great partners in delivering good music to their fans. They've appeared together on tracks like Thelumoya featuring Jaziel Brothers & Cassper Nyovest, Okokoko featuring Thebe & Unathi, Crazy featuring DJ Tira, Nadia Nakai & Floda.
Taking the friendship level to a new dimension, they celebrate it with this album.
ALBUM: Sphectacula & DJ Naves – 10 Years And Counting
1. Sphectacula & DJ Naves – Umlilo ft. Gobi Beast
2. Sphectacula & DJ Naves – Masithandaza ft. Dumi Mkokstad
3. Sphectacula & DJ Naves – Bonke ft. Nokwazi & Joejo
4. Sphectacula & DJ Naves – Smile ft. Beast & Nandi Madida
5. Sphectacula & DJ Naves – Matha ft. Focalistic & Abidoza
6. Sphectacula & DJ Naves – Awuzwe ft. Beast, Zulu Makhathini & Prince Bulo
7. Sphectacula & DJ Naves – Imisebenzi ft. TNS, Angel & Magalela
8. Sphectacula & DJ Naves – Eminence ft. Nue Sam & Deep Narratives
9. Sphectacula & DJ Naves – Pelo Yaka ft. Xoli M
10. Sphectacula & DJ Naves – Cishe Ngafa ft. Zain SA
11. Sphectacula & DJ Naves – A Re Yeng ft. AirDee & Gobi Beast
12. Sphectacula & DJ Naves – Okokoko ft. Thebe & Unathi
13. Sphectacula & DJ Naves – Ngeke ft. Beast, Hope & Leehleza