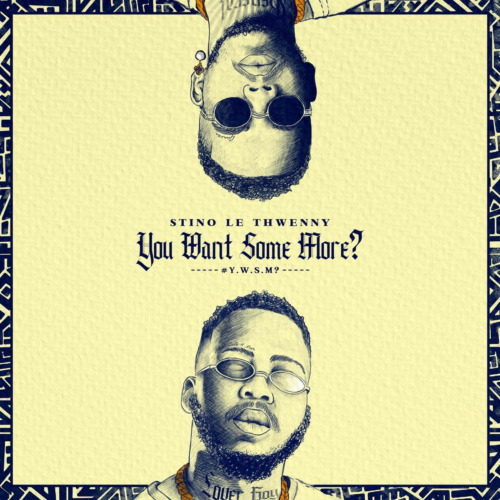 Prepare to be blown away by the explosive talent of Stino Le Thwenny with their highly anticipated album "You Want Some More". This dynamic duo is set to take the music scene by storm, delivering a collection of tracks that push boundaries, ignite energy, and leave listeners craving for more.
Each track is carefully crafted with infectious beats, catchy melodies, and thought-provoking lyrics that resonate with listeners on a deep level.
The South African artist promoted the album when he first dropped Snakes in the Grass featuring Nadia Nakai.
From high-energy club bangers to introspective and reflective tracks, "You Want Some More" takes listeners on a rollercoaster ride of emotions and experiences. Stino Le Thwenny's lyrical prowess shines through in every verse, delivering captivating storytelling and clever wordplay that captivates the audience from start to finish.
The album features an impressive lineup of collaborations, including renowned artists and rising stars, adding an extra layer of depth and diversity to the project. Stino Le Thwenny's ability to seamlessly collaborate with others and create musical chemistry is a testament to their artistic maturity and vision.
"You Want Some More" is not just an album; it's a statement. Stino Le Thwenny's infectious energy, raw talent, and innovative approach to music shine through in every track. It's an invitation to step into their world, embrace their unique sound, and experience the sheer power of their music.
So buckle up, turn up the volume, and get ready to immerse yourself in the sonic journey that is "You Want Some More".
ALBUM: Stino Le Thwenny – You Want Some More
1. Stino Le Thwenny – Bash ft. Makwa & Wonder Flawz
2. Stino Le Thwenny – Shiselwa
3. Stino Le Thwenny – Phuza Nam
4. Stino Le Thwenny & Khuli Chana – Karika ft. Lunatik
5. Stino Le Thwenny – Physically Fit ft. Roiii
6. Stino Le Thwenny – Sankes in the Grass ft. Nadia Nakai
7. Stino Le Thwenny – Dikeledi (Interlude)
8. Stino Le Thwenny – You Want Some More? ft. Maglera Doe Boy
9. Stino Le Thwenny – You
10. Stino Le Thwenny – Tsotsomela
11. Stino Le Thwenny – My Name
12. Stino Le Thwenny & Ntate Stunna – Monate
13. Stino Le Thwenny – Tripping
14. Stino Le Thwenny – I Need More
15. Stino Le Thwenny – Sporo ft. Cassper Nyovest & Tyler ICU
16. Stino Le Thwenny – Chaining Day