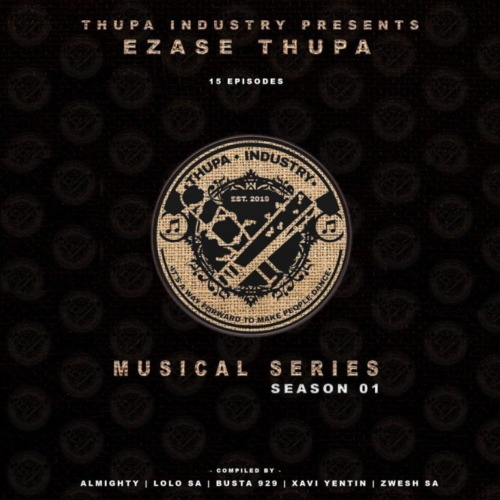 Thupa Industry releases this new project titled Ezase Thupa (Musical Series Season 1).
They release the project with 16 tracks featuring artists from their record label.
Busta 929, Almighty, Lolo SA, Xavi Yentin, Zwesh SA, all worked together on the project.
In releasing the project, she also dropped other tracks like Askies featuring Busta 929, Kamo Mphela, Lolo SA & Dinky Kunene, Bade Lami featuring Busta 929 & Almighty, Ausi Mapula featuring Sizwe Alakine, and a few more on it.
As one of the projects record label release, they drop this new album.
ALBUM: Thupa Industry – Ezase Thupa (Musical Series Season 1)
1. Almighty – A&B ft. Busta 929
2. Busta 929 – Ausi Mapula ft. Sizwe Alakine
3. Lolo SA – Bade Lami ft. Busta 929 & Almighty
4. Xavi Yentin – Dikoloto ft. Busta 929
5. Zwesh SA – Akusale Abasalayo ft. Somnculo Omnand, DJ Million & Banzar
6. Almighty – Askies ft. Busta 929, Kamo Mphela, Lolosa & Dinky Kuneene
7. Busta 929 – Ezase Thupa
8. Lolo SA – Jabula ft. Busta 929
9. Xavi Yentin – Iskhalo ft. Almighty & Zwesh SA
10. Zwesh SA – Digada ft. Lady Du, Busta 929, Mafidzodzo & Bob Mabena
11. Almighty – Uphi Ubaba ft. Reece Madlisa & Manzo
12. Busta 929 – Wozani Nonke ft. Almighty, Lolo SA, Xavi Yentin & Zwesh SA
13. Lolo SA – Sengidakiwe ft. Almighty & Zwesh SA
14. Xavi Yentin – Ngikhululeni ft. Busta 929 & Zwesh SA
15. Zwesh SA – Umthetho ft. Naco & Mphoet
16. Busta 929 – Game Changers ft. Almighty