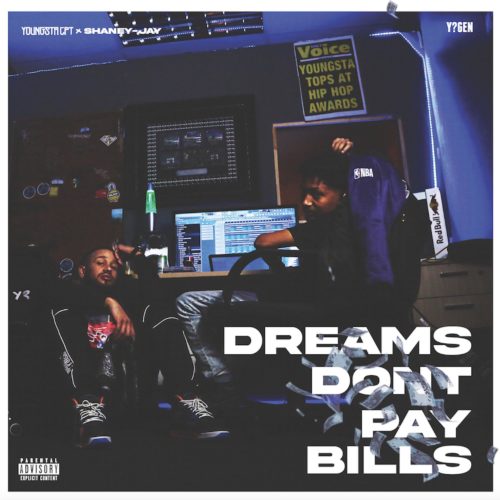 YoungstaCPT and Shaney Jay join hands together in dropping this new album titled Dreams Dont Pay Bills.
The album holds 16 tracks with artists like The Big Hash, Jannah Beth, and a few more.
YoungstaCPT and Shaney Jay use the album to communicate a piece of advice to their fans. "To my fellow dreamers who stayed woke this far, Even if they sleep on you don't sleep on your passion & always believe in your potential". Dreaming gets you nowhere if you still dreaming about it – YoungstaCPT.
Holding the effort of YoungstaCPT, he made his last appearance on New Takkies. Bringing it for the week, they drop this new project.
YoungstaCPT & Shaney Jay – Dreams Dont Pay Bills
1. YoungstaCPT & Shaney Jay – Sleeping ft. Jannah Beth
2. YoungstaCPT & Shaney Jay – Dreams Dont Pay Bills
3. YoungstaCPT & Shaney Jay – Sweating In My Sleep
4. YoungstaCPT & Shaney Jay – Dagga
5. YoungstaCPT & Shaney Jay – Waarheid
6. YoungstaCPT & Shaney Jay – Hometown Advantage ft. The Big Hash
7. YoungstaCPT & Shaney Jay – Brick and Mortar
8. YoungstaCPT & Shaney Jay – Coinz
9. YoungstaCPT & Shaney Jay – Flambae
10. YoungstaCPT & Shaney Jay – Boychi
11. YoungstaCPT & Shaney Jay – Goodhope ft. KashCPT & Tembipowers
12. YoungstaCPT & Shaney Jay – Dont Vestaan ft. DJ Ready D & EMile YX
13. YoungstaCPT & Shaney Jay – The Matador
14. YoungstaCPT & Shaney Jay – SIdenote ft. KashCPT & Tembipowers
15. YoungstaCPT & Shaney Jay – Streety?Z
16. YoungstaCPT & Shaney Jay – When I Pass Away