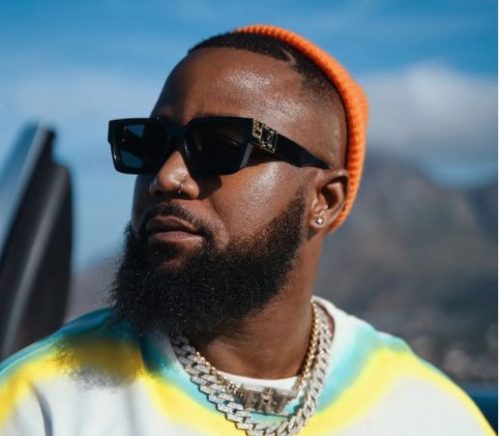 The celebrity lifestyle is demanding and you need to be intentional once you get to that phase.
Branding a celebrity embraces looks and the entirety of his/her wardrobe amongst other factors.
We've successfully landed to an age where your physical appearance is voluminous than your voice, in fact, appearances mattered right from the birth of the world.
However, it's disappointing to see some celebrities, especially in South Africa enfold the truth which is, dress how you want to be addressed.
The society is obviously not meant to define the way you dress, but this statement isn't for a celebrity who is trying to be renown, as you can achieve a cushy and ostentatious look with the help of a stylist.
Below are rich South African celebrities who need a stylist ASAP (as soon as possible):
CASSPER NYOVEST
The outspoken rapper obviously speaks better than he dresses. You can't claim to be the most powerful celebrity, also won SAHHA Artist of the Decade, yet these titles don't match your wardrobe. We know you're trying to be diverse and invest in almost all industries, there's no crime if you invest in your fashion by hiring a stylist.
View this post on Instagram
KABZA DE SMALL
We understand you're trying to play humility, but you obviously need a stylist, especially with combining some of your expensive wears. It's designers or expensive doesn't mean it can't be structured. As the King of Amapiano, you should up your fashion game and be kingly in your looks.
View this post on Instagram
MASTER KG 
Master KG should be reminded that he's gone from being a local artist to a musician who performs abroad, who has dined with international stars like, Don Diesel, Akon and a few others. Asides having a boring wardrobe, his fashion game is yet to define the upgrade in his life. He needs to be spontaneous with his looks.
View this post on Instagram
NADIA NAKAI 
Nadia Nakai, it's blatant to the eyes that you're endowed, but your wardrobe is easily tagged boring, when you lack spontaneity. Boring is when we behold your curves in clothes 365 days in a year; boring is when nud!ty comes to mind whenever your snaps are seen. It's no crime to flaunt curves, but enough with the bodycon; play around with other looks – Get a stylist, you have the body and look!
View this post on Instagram
SHIMZA 
Mr round-neck, we understand that you're trying to look comfortable but you've grown your brand to an impressive phase, your looks should also experience growth; getting a stylist to help you serve stunning looks is a plus to your career as a DJ.
View this post on Instagram
BUSTA 929 
For a musician who desires to be in the same studio with Beyonce, Busta's fashion sense is poor. So long he's not unclad, the DJ is fine, which is not laudable for the career he's building for himself. South Africa is blessed with tons of stylists, Busta 929 is capable of hiring one.
View this post on Instagram
NJELIC 
Tshwarelo Motlhako a.k.a Njelic has a boring wardrobe, which is not commendable for someone who is trying to have a niche in all areas in the entertainment industry. You can't claim to be a deejay, vocalist, perfomer, comedian, and, actor yet your outfits are less ostentatious and indistinguishable. Njelic's trousers are either pencil or fitted, we want you to apply some pressure and play with different styles.
View this post on Instagram