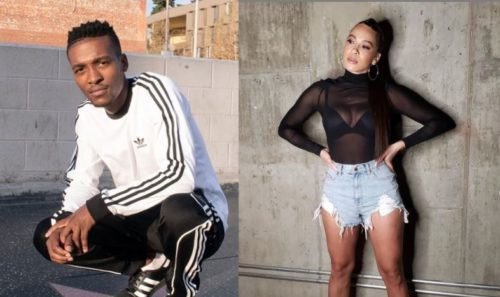 Mzansi have stayed awake both day and night in defense of DJ Lag whose song titled Ice Drop got allegedly stolen by an American musician named Megan Ryte.
Megan dropped a new song titled Culture which featured Black Eyed Peas member Will.I.AM and A$AP Mob rapper A$AP Ferg.
Taking to Instagram, she teased the sound and captioned it with: "Here's lil sneak preview of my insaneeeeee video directed by Nabil for my new single CULTURE ft Will.I.AM and A$AP Ferg! The song is available everywhere at midnight and video droppin at 10am tomorrow!!! 11/20 ! LETSSSSS GOOOOO [sic]"
As good as the sound might be, South Africans are not pleased she stole the South African DJ's property.
View this post on Instagram
Mzansi Twitter trends South Africa DJ in other to drag the American star.
Check out reactions below:
Like n RT if you've never heard of Megan Ryte before this sh*t#DJLag
South African Dj pic.twitter.com/hgvNzIBwat

— I'm_the_GOAT (@Joe_roam_) November 26, 2020
Keep the same energy please dont flip.

South African DJ
Dj lag#meganwokunuka#DJLag pic.twitter.com/eSEDAlPjiR

— 3lack 3irdie IX (@asakhe_gatyeni) November 26, 2020
I thought SA twitter is just being harsh just for the sake of defending a South African DJ but I've just given the 2 songs a proper listen. My people are right and 100% spot on with this one…Megan Ryte definitely stole DJ Lag's beat from Ice Drop. They must just pay the bro.

— Sqiniseko (@SQ_Myeza_) November 26, 2020
American DJ stealing beats and music video concept from South African DJ. To top it off the title and meaning of the song is really ironic to the situation at hand. Dj Megan Ryte messed up big time… pic.twitter.com/ve0nOmkrdH

— Kat lee (@kat_the_maw) November 25, 2020
They stole a beat from a South African Dj thinking we don't have internet hayi‍♂️ pic.twitter.com/cJ95x3tKPv

— Efkay Lele Legodi ⚪ (@lele_efkay) November 25, 2020
Did my part for South African DJ pic.twitter.com/9IvK2is6Cq

— (@Skhu_Za) November 25, 2020
So someone's daughter decided to steal from a South African Dj, now she has dislikes on her video that are more than her actual subscriber pic.twitter.com/RyksMpaN81

— ayex_dinwa (@ayex_dinwa) November 25, 2020
South Africans when they see someone disrespecting our country or doing injustice on someone from our Country

South African DJ pic.twitter.com/gez6N5bvxs

— @RealTastyFinger (@realtastyfinger) November 25, 2020
South African Celebrities gonna remain quiet about American artists stealing from our artist oh kana they celebrate Halloween never participate in anything that is happening in SA but if ke America ba txia number 1
South African DJ pic.twitter.com/1l2errjI12

— Faith Matshangane Sakwane (@SakwaneFaith) November 25, 2020