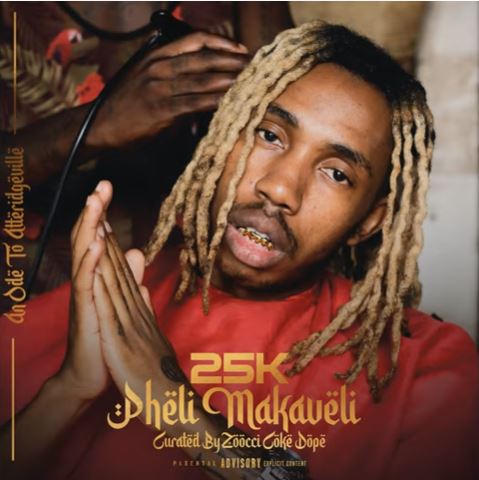 25K cuts the suspense as he drops the latest EP titled Pheli Makaveli.
He has been making the announcement ahead with some tracks off it.
Coming off the album he dropped an intro titled Pheli Makaveli and Hustlers Prayer featuring A-Reece.
25K has featured on tracks like Boity's track titled 018's Finest (Remix) and Focalistic's track titled Stlamatlama featuring 25k, Abidoza, Junior Taurus.
He also dropped his last year's single titled Consigliere.
Taking it to an extreme level this time, he drops this new project.
1. 25K – Pheli Makaveli (Intro)
2. 25K – Blarofornia ft. Zoocci Coke
3. 25K – Omerta
4. 25K – Hustlers Prayer ft. A-Reece
5. 25K – Trap Jumpin'
6. 25K – Self Made ft. Emtee
7. 25K – Dagwood
8. 25K – Project Baby (Interlude)
9. 25K – Apple Soda/ Record Deal
10. 25K – From Dusk Till Dawn ft. FLVME
11. 25K – King's Gambit ft. Killa-X
12. 25K – Quarter To Six ft. Maglera Doe Boy