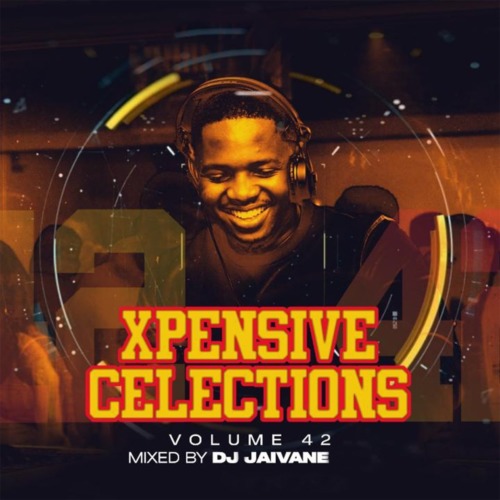 DJ Jaivane comes powerfully as he drops this new album titled XpensiveClections Vol. 42.
The project holds 29 tracks with powerful features on it.
The Amapiano artist has announced the project for a while and has kept his fans anxious about getting the best from him.
He also introduced it to them with a mix titled XpensiveClections Vol 42 Mix (Insta 500K FB 800K Appreciate.
He also released OwnLaneBoys featuring MFR Souls and Villosoul.
In doing so much for his fans, he drops this new project.
ALBUM: DJ Jaivane – XpensiveClections Vol. 42
01. Amu Classic & Kappie – Sendivile Feat. LeeMcKrazy, Stash Da Groovyest, Kera & Mzweshper SA
02. Amu Classic, Kappie & Muziqal Tone – Base Jaivini (Feat. Scotts Maphuma & LeeMcKrazy)
O3. MuziqalTone, Amu Classic & Kappie – Qinisela(Feat. LeeMcKrazy & Mzweshper SA)
04. MuziqalTone, Amu Classic & Kappie – |ndaba'Eyam(Feat. LeeMcKrazy)
05. TribeSouL Amu Classic, Kappie & Muziqal Tone – Wena (Feat LeeMcKrazy)
06. Amu Classic, Kappie & MuziqalTone – Opemaria(Feat. LeeMcKrazy & Mzweshper SA)
07. Amu Classic, Ka ppie & MuziqalTone – Siyahlasela (Feat LeeMcKrazy& Spizzy)
O8. MuziqalTone, Amu Classic & Kappie Africa(Feat. Scotts Maphuma, Spizzy& Frankeyz)
09. King P, Amu Classic, Kappie & Muziqal Tone – Ngizom'lobola (Feat Scotts Maphuma)
10. Amu Classic, Kappie & MuziqalTone – Mshayeli(Feat. LeeMcKrazy)
11. TmanXpress & Dj Jaivane ft Demented Soul – lnkonzo
12. Amu Classic, Kappie & King P – Ngizok'nika lonke (Feat LeeMcKrazy)
13. MuziqalTone, Amu Classic & Kappie – Simnandi Simoja Feat. LeeMcKrazy
14. Amu Classic & Kappie – Marena(Original Mix)
15. Amu Classic, Kappie, Stash Da Groovyest & Kera SA – SKAK1
16. MuziqalTone, Amu Classic & Kappie – Ke Nako Mang(Dance Mix)
17. Luudadeejay& Dj Jaivane – Give Me the night (George Benson Bootleg)
18. KNL Musiq & Dj Jaivane – KNL Babies
19. Dj Jaivane, Pronic DeMuziq & Krispy D'Soul – 8'Oclock (Dub mix)
20. Djy Jaivane, Amu Classic & Kappie – One Man Show(Dance Mix)
21. Dj Jaivane, MFR Souls ft Villo Soul – OwnLaneBoys
22.DjJaivane, DjFather& Sein Lanies at work ,3
23. Dj Jaivane & SoulMc_ Nito – Attack
24. Dj Jaivane & Dj Father – Claves & Blocks
25. Dj Jaivane & Dj Father – Roses
26. Dj Jaivane & SoulMc_Nito s – Dashboard
27. Muziqal Tone – You can win
28. MuziqalTone, Amu Classic & Kappie – On Stage(Main Mix)
29. Amu Classic, Kappie & King P – Power (Main Mix)