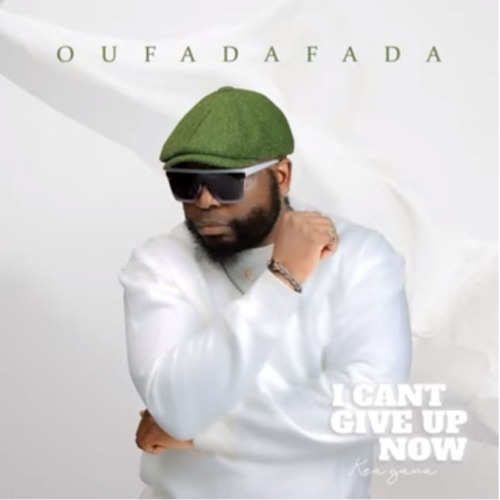 "I Can't Give Up Now" is a remarkable album by Oufadafada that explores the intricacies of life, perseverance, and the human spirit.
Through a collection of carefully crafted tracks, Oufadafada takes listeners on a journey of self-discovery, resilience, and the pursuit of one's dreams.
The album opens with an introspective and emotive track that sets the tone for the rest of the musical experience. From there, each song unfolds like a chapter in a novel, revealing stories of challenges, triumphs, and personal growth. The variety of musical styles and arrangements keeps the album engaging and dynamic.
He opened the project when he worked with Master KG on Problems.
Oufadafada's lyricism shines throughout the album, as he delves into themes of hope, determination, and the importance of embracing life's struggles. The lyrics are relatable and resonate with listeners who have faced obstacles and found the strength to persevere.
The album's production is a seamless blend of genres, showcasing Oufadafada's versatility as an artist. From soulful ballads to upbeat tracks, the album offers a diverse sonic landscape that appeals to a wide range of musical tastes.
Collaborations with other artists add depth and dimension to the album. Each featured artist brings their unique style, enhancing the storytelling and emotional impact of the tracks.
ALBUM: Oufadafada – I Cant Give Up Now
1. Oufadafada – Holy Ghost
2. Oufadafada – Ke Tshepile Wena (Soulful Retouch)
3. Oufadafada – Lord Is My Shephard ft. Megadrumz
4. Oufadafada – I Can't Give Up Now ft. DJ 8 Milli
5. Oufadafada – Something About The Name
6. Oufadafada – Kuyoze Kube Nini ft. Megadrumz
7. Oufadafada – They Think I Don't Know
8. Oufadafada – My Soul
9. Oufadafada – Butterflies
10. Oufadafada & Master KG – Problems
11. Oufadafada – Thank You Jesus ft. DJ 8 Milli
12. Oufadafada – Tribute
13. Oufadafada – U & I ft. DJ 8 Milli
14. Oufadafada – Wena O Shename
15. Oufadafada – Pandemic Prayer ft. DJ 8 Milli
16. Oufadafada – Ke Tshepile Wena (Acoustic Mix)